Paris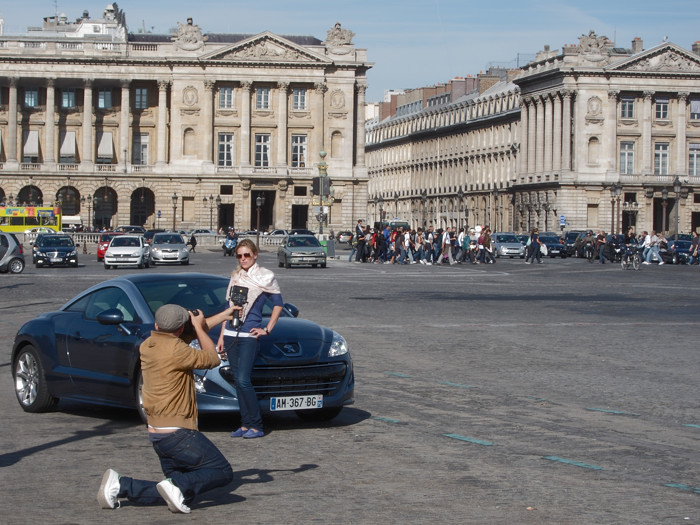 We pass a photo shoot in Place la Concorde on a warm late summer day in the heart of Paris.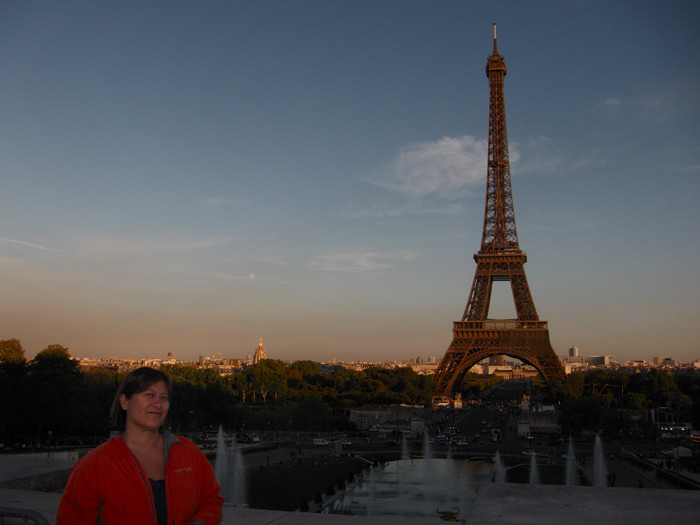 Sunset view of the Eiffel Tower from Palais de Chaillot.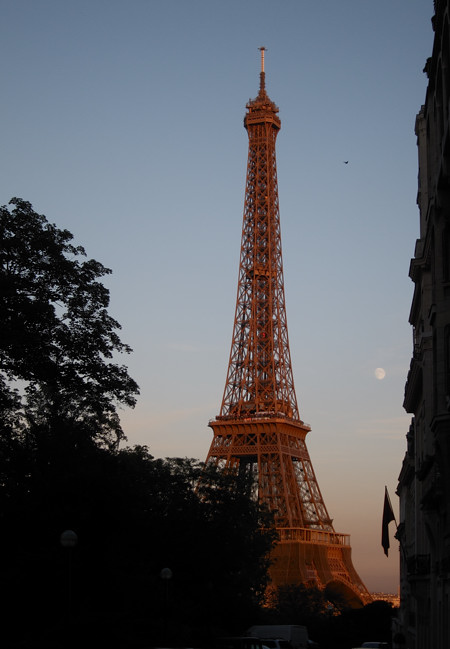 View as we walk to dinner.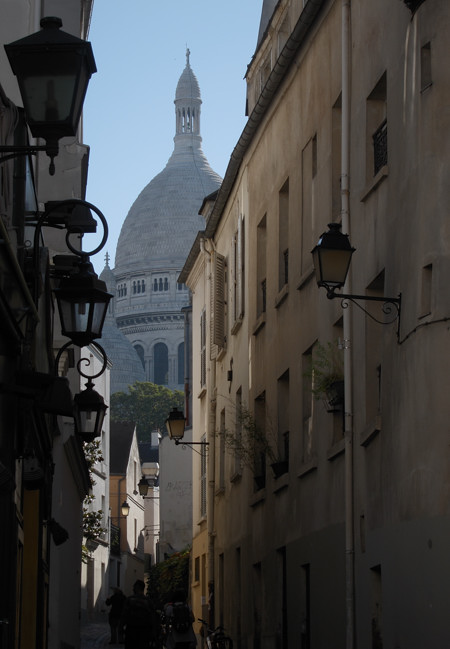 Basilique du Sacre Coeur, a Paris landmark in Montmartre, the highest spot in the city.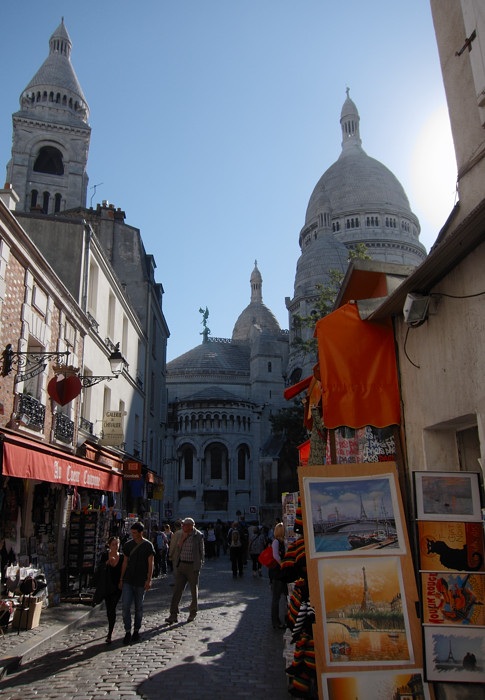 Scenic street by the basilica.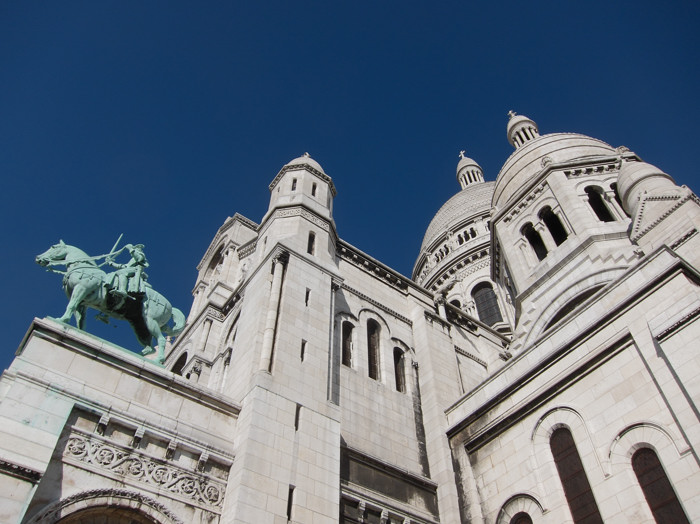 Basilique du Sacre Coeur.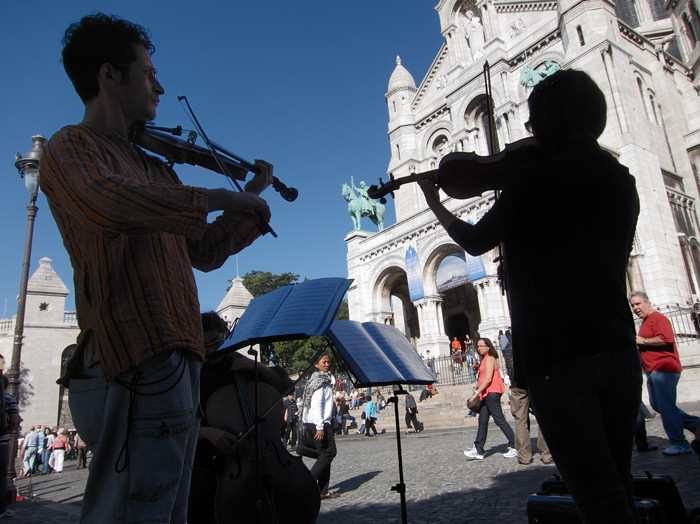 Classical trio playing Bach concertos.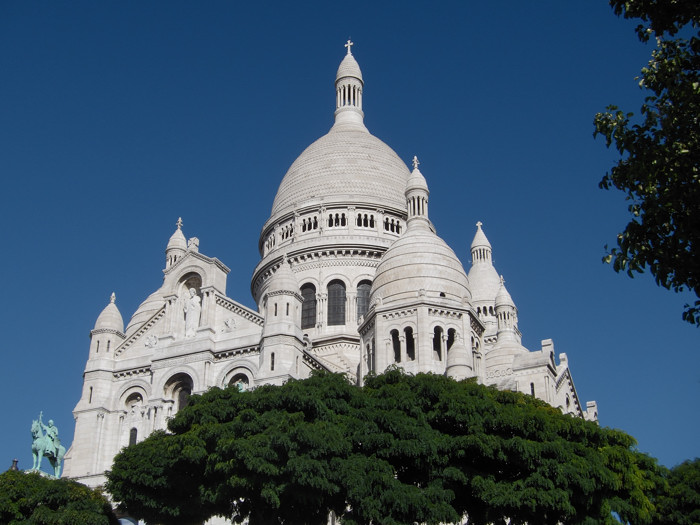 Another view of the spectacular basilica.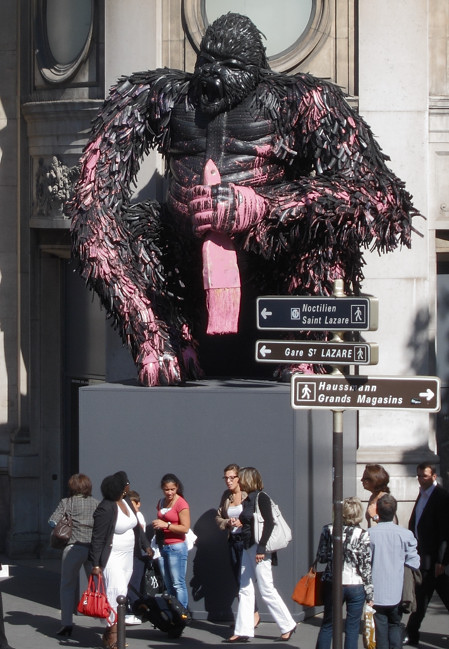 Gorilla with a paint brush on a Paris street corner.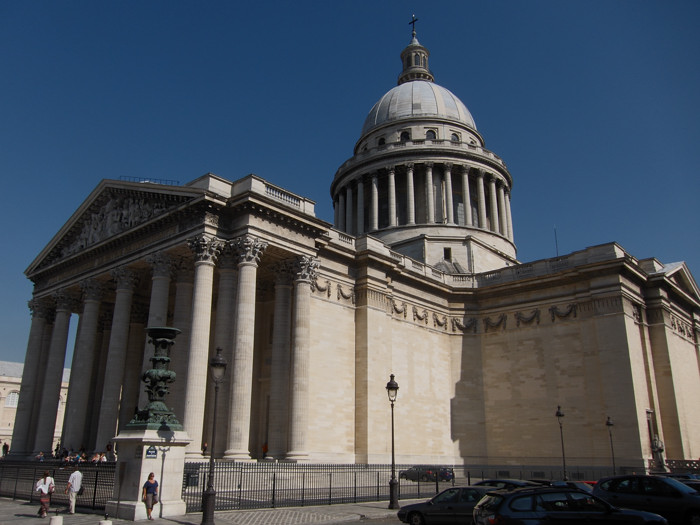 Pantheon in the Latin Quarter. The crypt includes the tombs of Voltaire, Rousseau and Victor Hugo.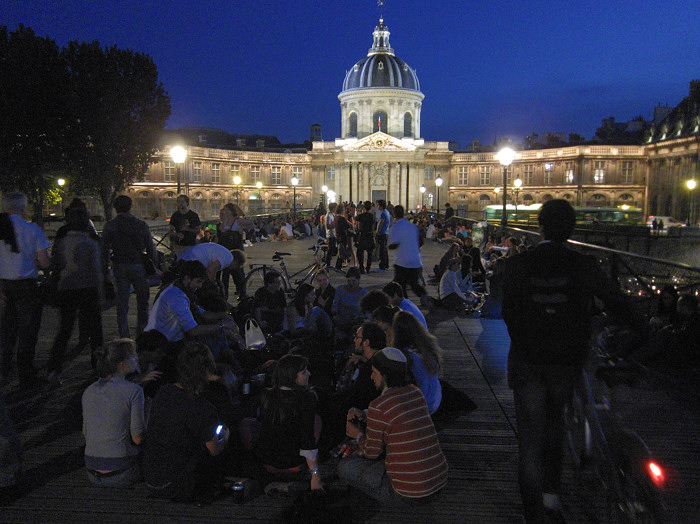 Ponts des Arts, a pedestrian-only bridge over the Seine. On this warm late summer evening, dozens of groups are enjoying dinner and wine.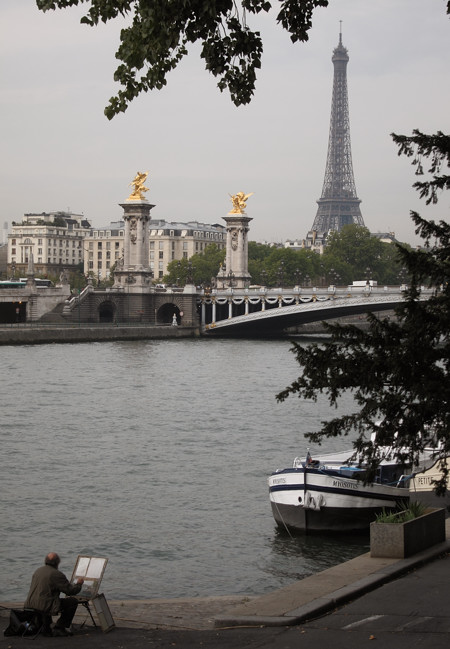 Artist at work. On this trip we enjoy impressionist paintings at both the Louvre and Musee D'Orsay.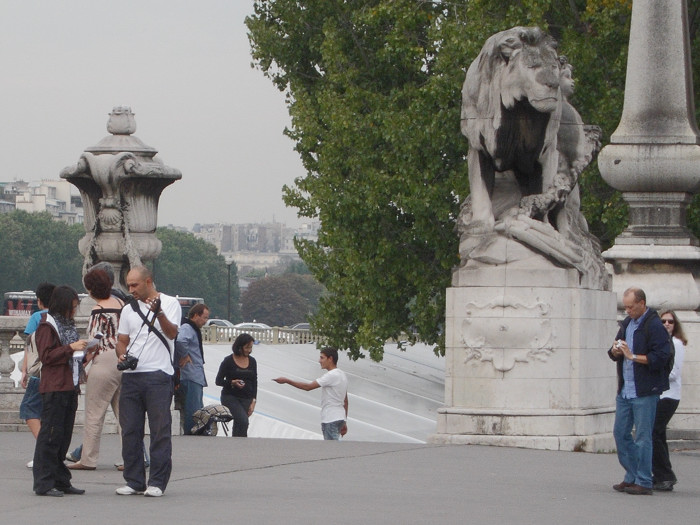 Con artist caught in the act. As a tourist walks by, he pretends to pick up a gold ring: "Is this yours?" The tourist takes it and say no, then tries to hand it back. But the con artist refuses. He impresses the tourist as an honest Parisian who couldn't use the ring anyway. In the end, he convinces the tourist to part with a few Euros to buy himself a meal, which is fair since the tourist is keeping the valuable ring. Of course, the ring is worthless brass. (He tried this on Pam but she ignored him.)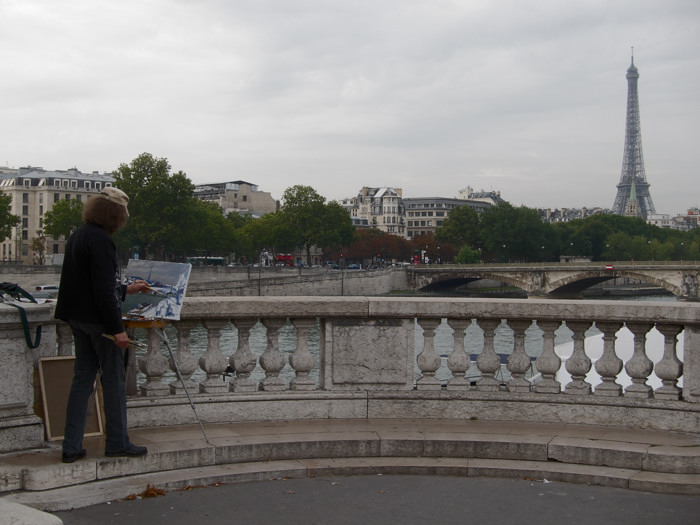 Another famous view, another artist.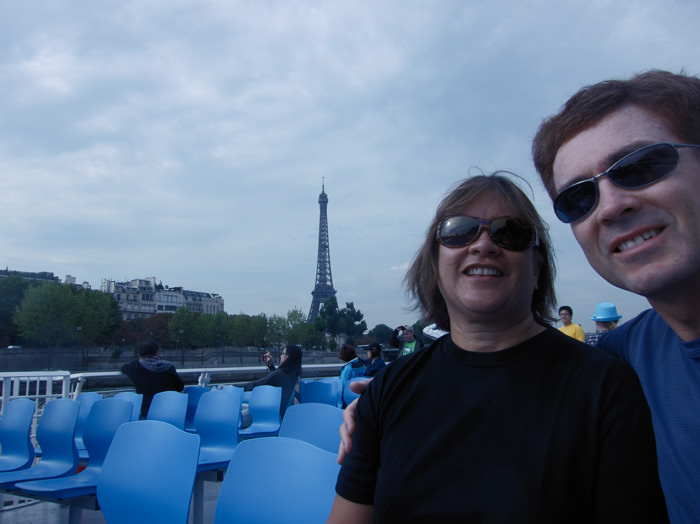 A boat cruise along the Seine provides a good overview of the heart of Paris.
Finishing the trip in London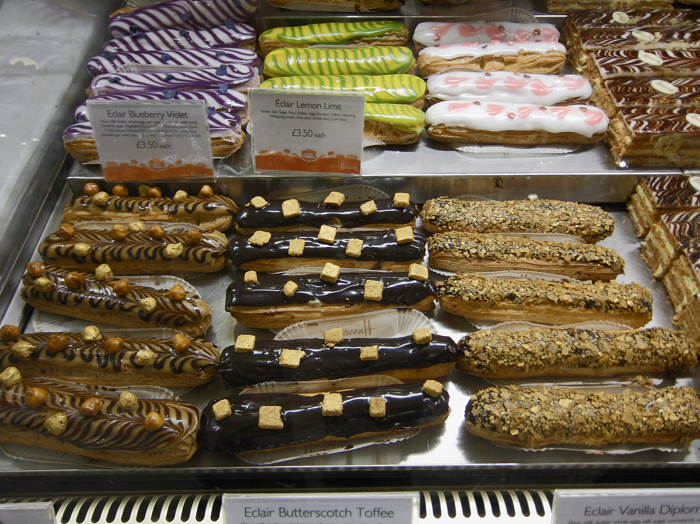 The food market inside Harrod's department store is remarkable in both quality and variety.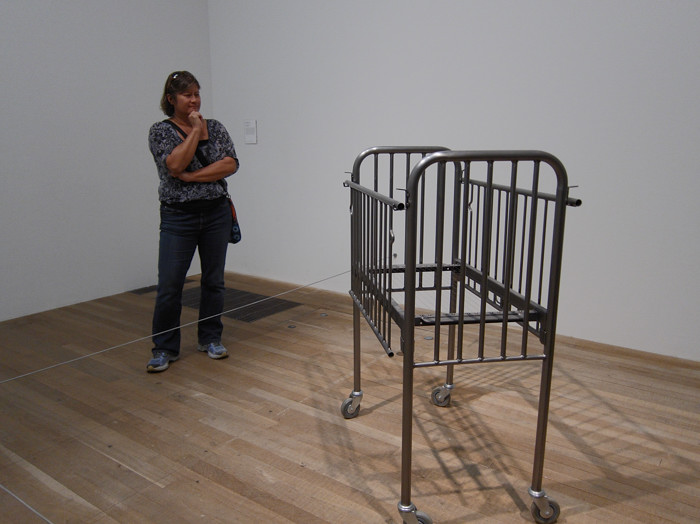 We end our Europe trip with a visit to the Tate Modern art museum.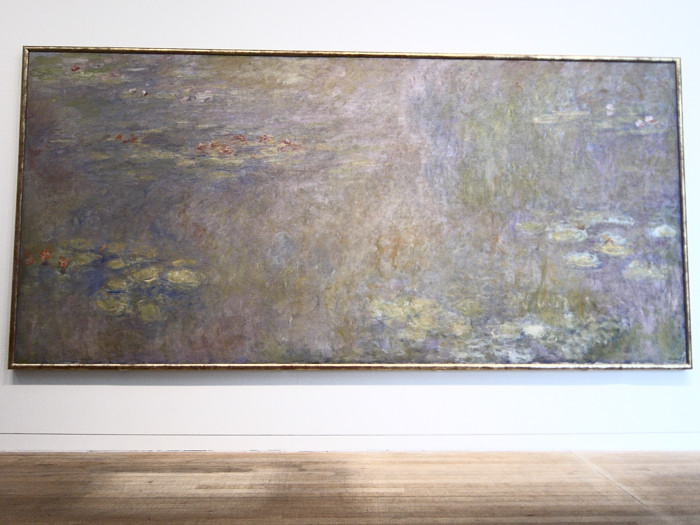 Monet's giant painting of water lilies provides a bridge from impressionism (which we love) to abstract art (which we don't quite get).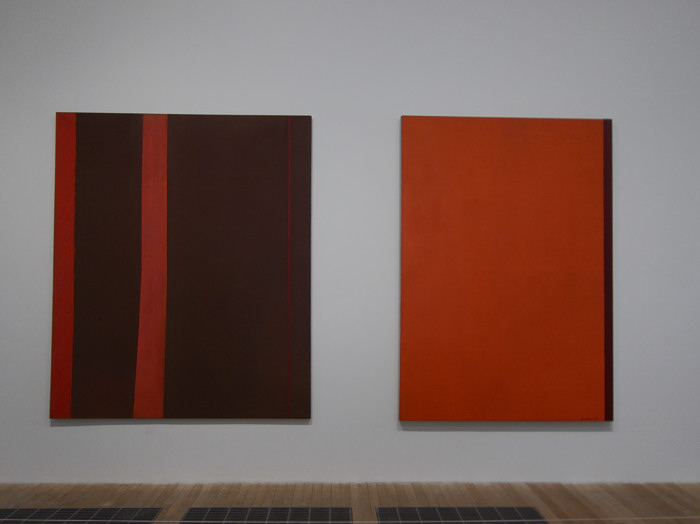 Two abstract paintings. The caption for the right painting is either brilliant or absurd, depending on your point of view: "The vast expanse of unmodulated red paint in this work is both absorbing and disorienting. It is interrupted by a single, narrow band of purple running the length of the right-hand edge. This 'zip' generates a tension throughout the canvas between presence and blankness, solidity and fragility. Its verticality also echoes the position of the viewer, helping to fulfil Newman's concern that 'the onlooker in front of my painting knows that he's there'." (Personally, I'm glad he's concerned.)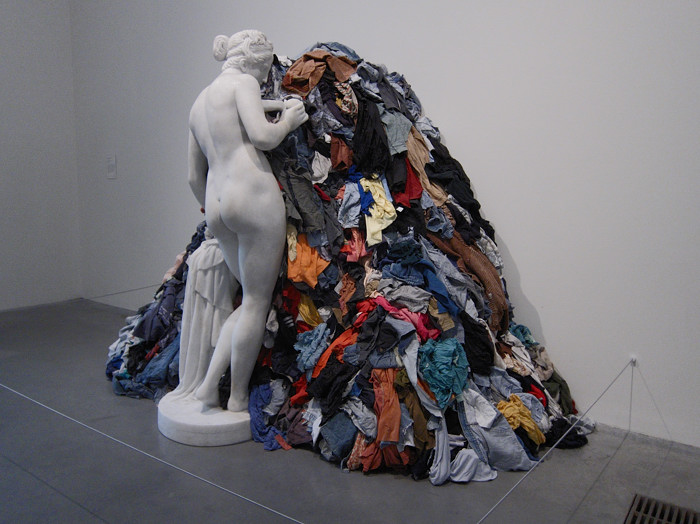 Now this is more understandable: the juxtaposition of the sculpture of Venus with a pile of clothes.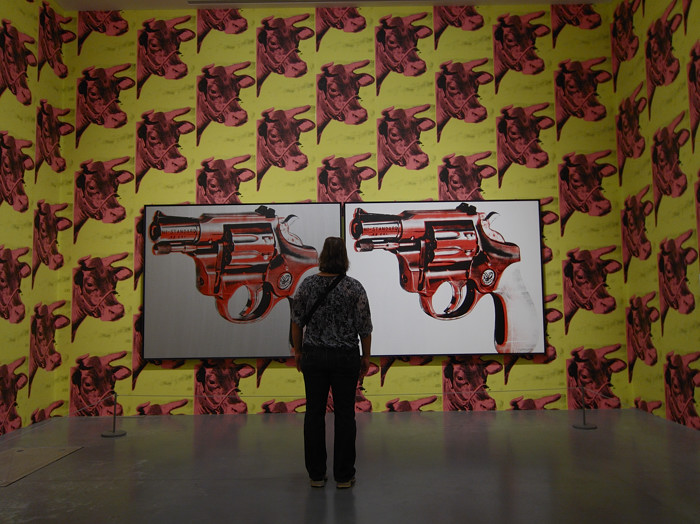 Some of the exhibits invite silent contemplation. Seems like a good time to leave Europe and go barbeque a good steak.