May 31: El Reno/Union City EF-5 Tornado (largest ever!)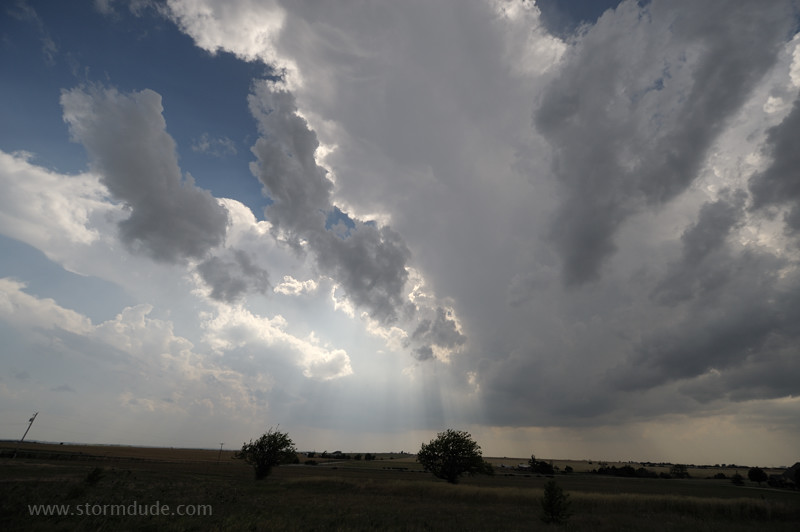 On a hot, oppressive afternoon, storm towers go up on the dryline west of Hinton (35 miles west of Oklahoma City). With CAPE over 5000 and moderate deep-layer shear, HP Supercells are likely with possible violent tornadoes (EF-4 or EF-5). (Photo taken at 4:30 pm, just west of Hinton.)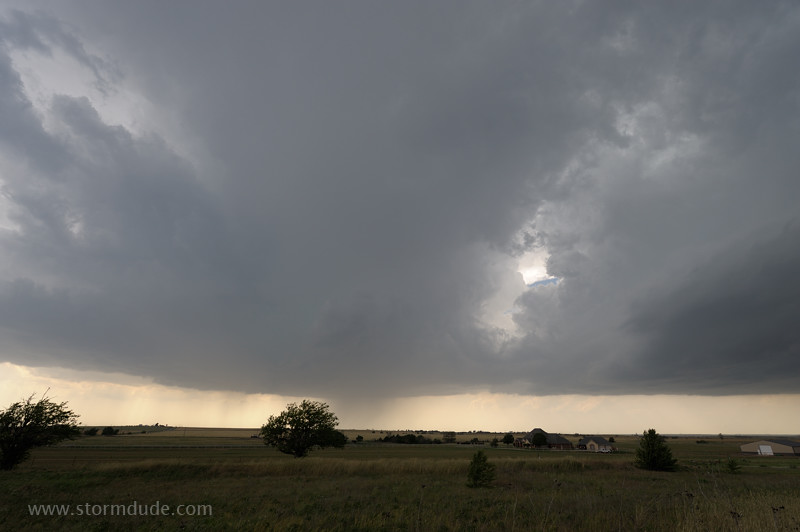 Unfortunately, Oklahoma City has a bulls-eye on it with today's conditions. My strategy is to track the storm during its early stages, through the rural areas between El Reno, Union City and Mustang, but not continue into the city's western suburbs. The National Weather Service warns residents to be off the roads by 4 pm. (4:54, just west of Hinton)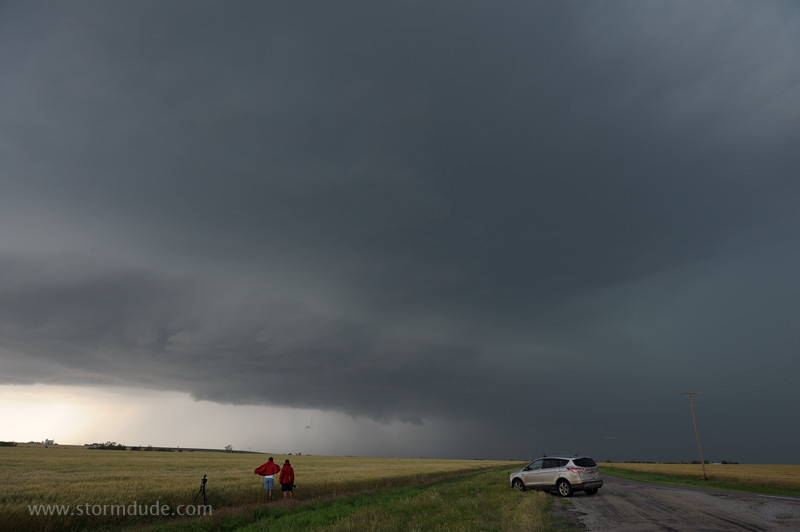 The storm evolves rapidly as I stay just southeast of the main updraft. (5:15, two miles southeast of Hinton)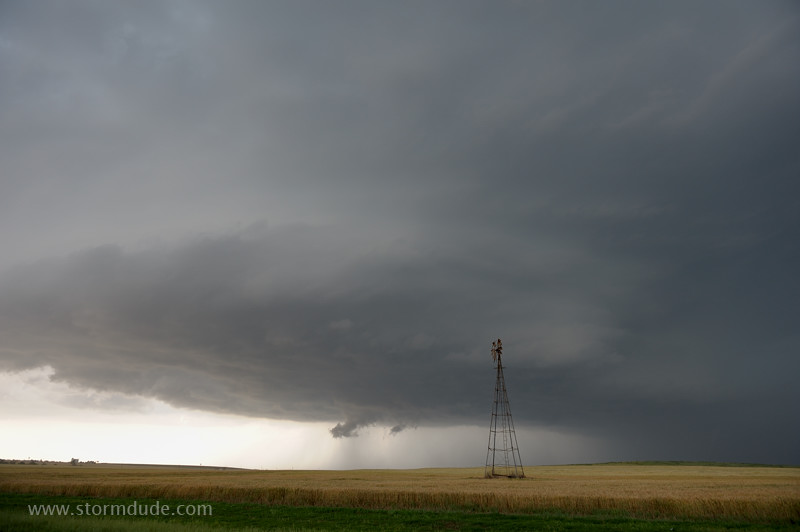 Only forty-five minutes from initial towers to a powerful supercell with very large hail. (5:18)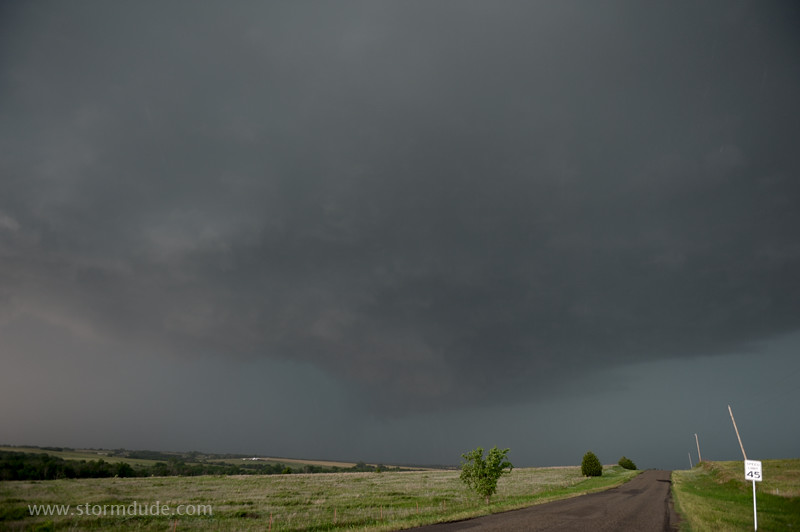 The supercell is moving east. (5:45, Reno Road and Red Rock Road)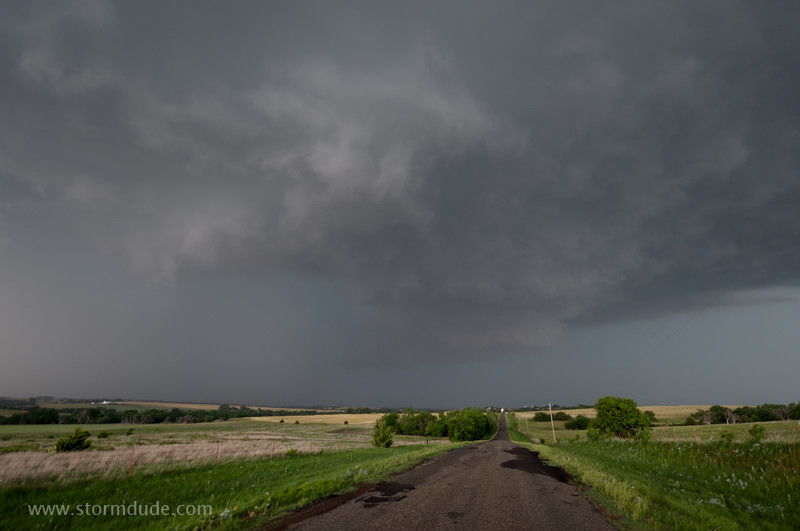 Looking due north at the ragged underside of the updraft in front of the rain core. I'm following Reno Road (aka Reno Avenue) towards the east. Reno Road is located between El Reno and Union City (between I-40 and the Canadian River). (5:48)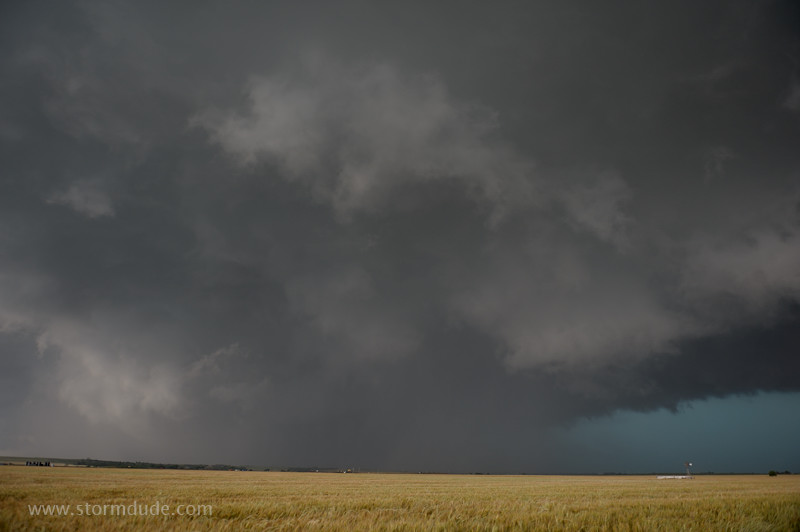 After continuing east to match the storm's steady eastward movement, I stop to photograph this ragged lowering (which is about two miles to my northwest). (5:55, Heaston and Reno)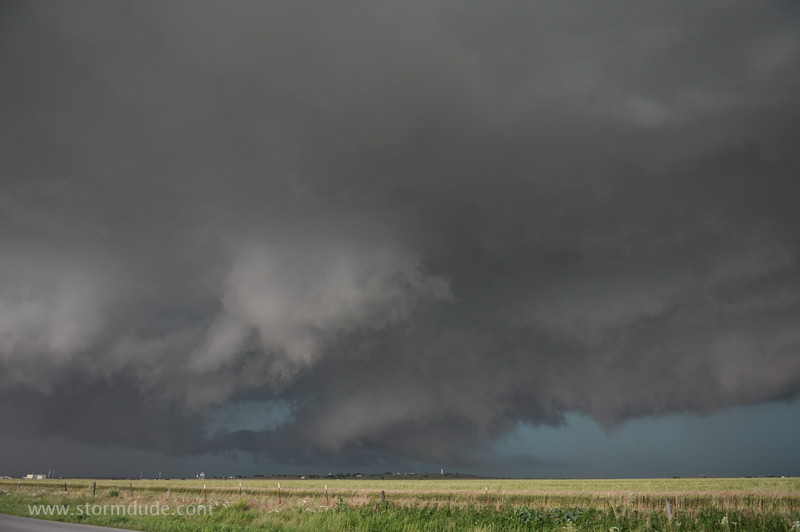 Wall cloud is forming about three miles to my northwest. (6:00, on Reno Road about one-third mile east of Fort Reno Road)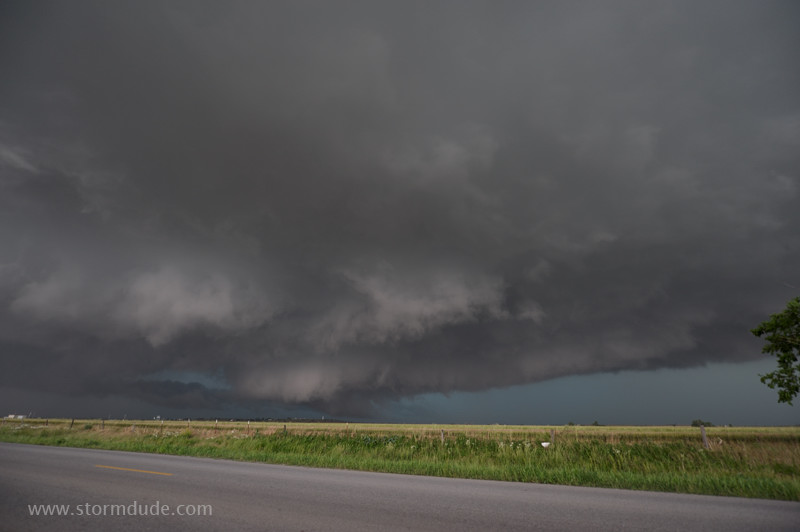 Wide-angle view shows the wall cloud has developed under a large, turbulent updraft (6:01).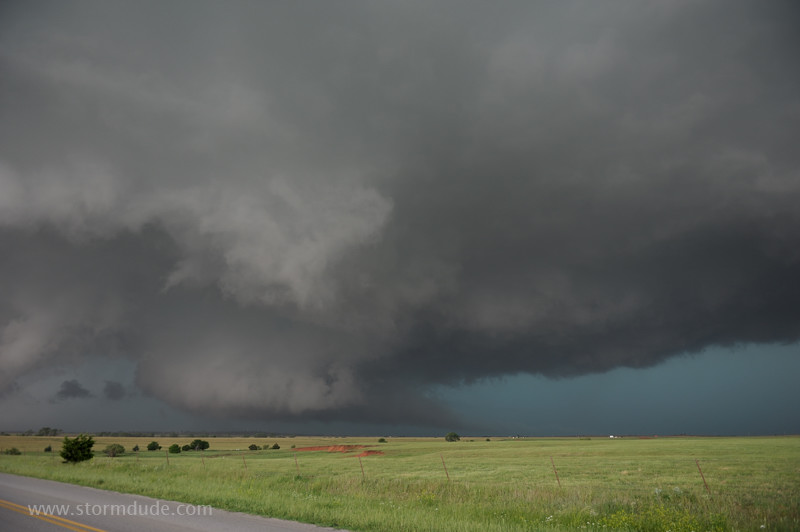 Only two minutes later, the wall cloud appears fully organized. (6:03, Reno Road, one-half mile east of Brandley Road)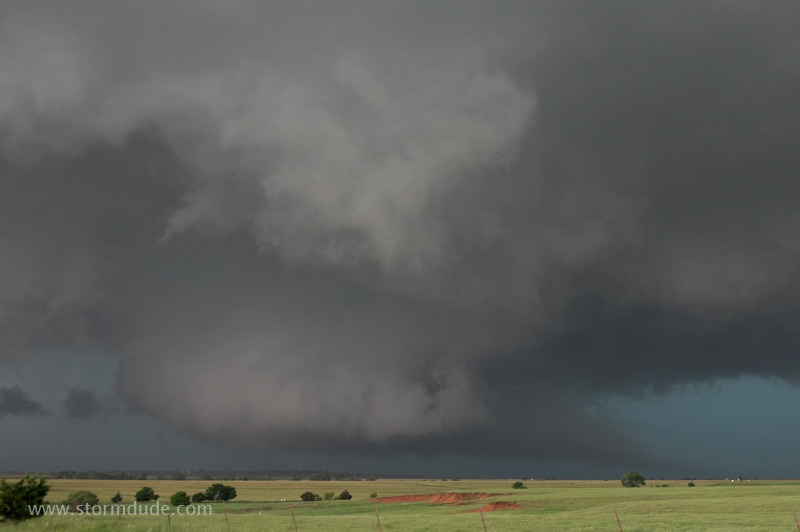 Zoomed-in view. I'm mesmerized by the storm and fail to realize it has turned right, from eastward to southeastward movement.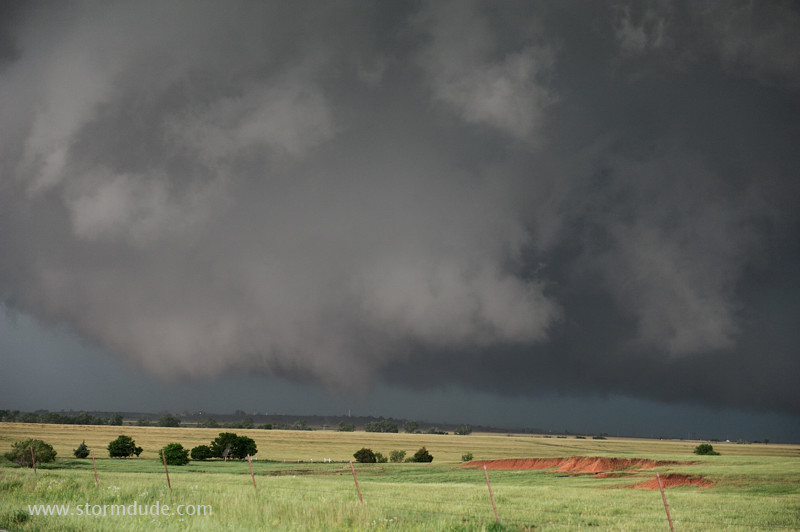 A tornado is ready to descend (6:03:23).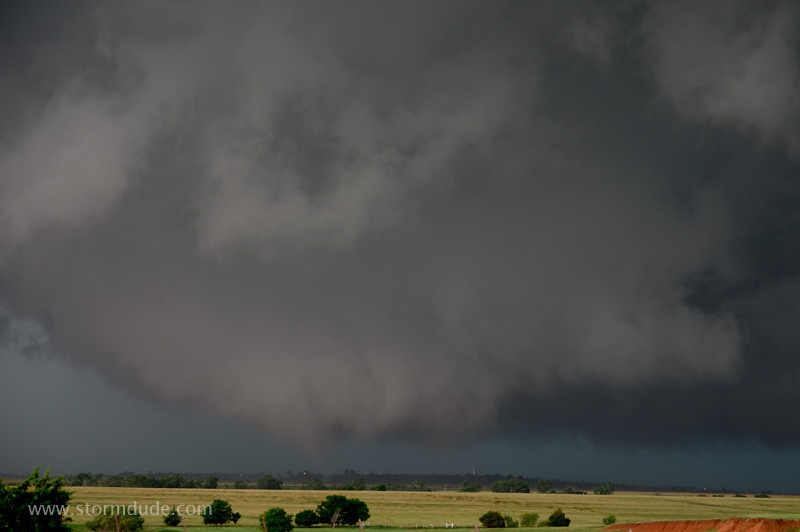 The first visible vortex reaches the ground at 6:03:30. This is only ninety minutes since I was sitting just west of Hinton watching narrow, isolated storm towers begin to merge.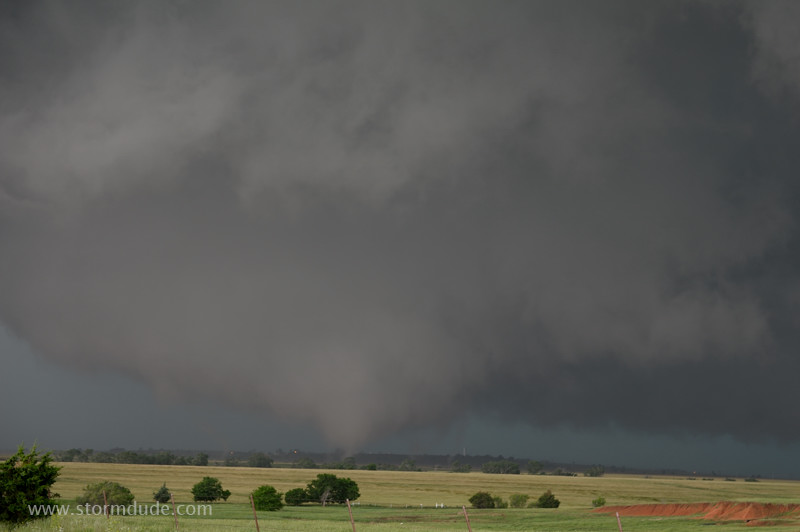 It grows into a cone as other vortices move erratically around the tornado cyclone.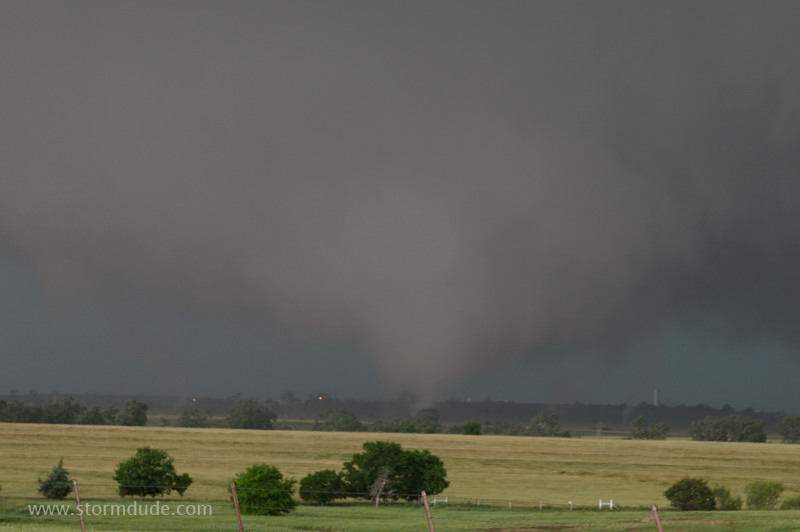 Zoomed-in view.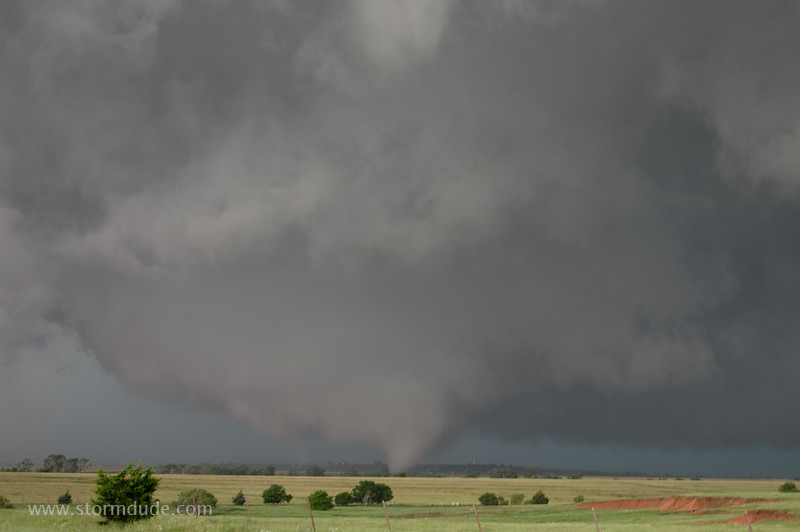 Large multi-vortex tornado. Individual vortices descend and retract in rapid, violent motions. In this situation, the tornado cyclone, which is delineated by the larger wall cloud, is likely to reach the ground as a large, violent tornado. This presents a danger to anyone getting close to the individual vortices without realizing the presence of a tornado cyclone overhead.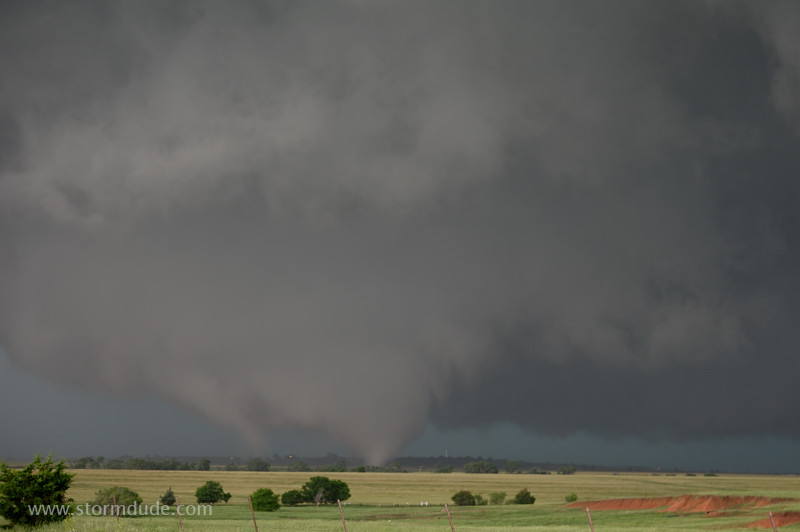 Weaker vortices are on the left and right of the main cone. The vortices are descending and ascending rapidly as they rotate counterclockwise around the tornado cyclone.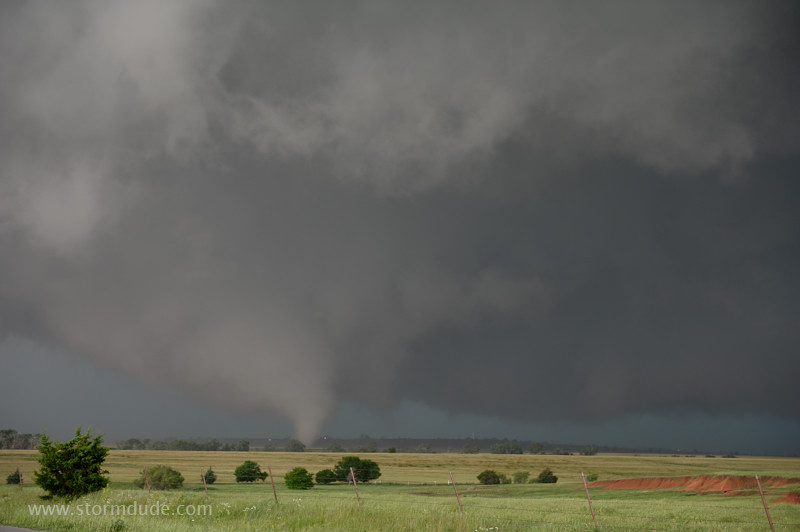 This photo taken twenty seconds later shows the main cone has weakened and retreated to the north while the secondary vortex thickened as it moved southeast. (6:04)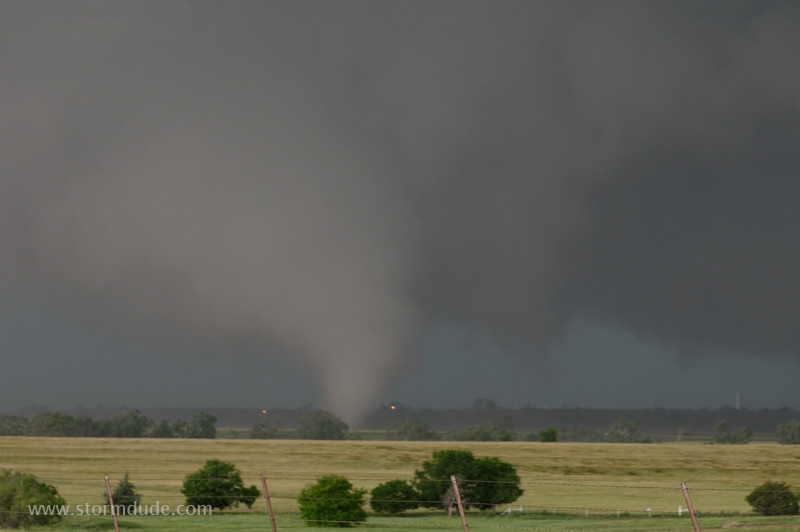 Zoomed-in view. (Bill Reid describes his close encounter 1.5 miles west of me on Fort Reno Road: Bill Reid's Chase Account. This photo is taken at about the time his tour group is loading up the van to drive away from the approaching tornado. They stayed safely ahead of the tornado cyclone, but were still surprised by the sudden turn southeast.)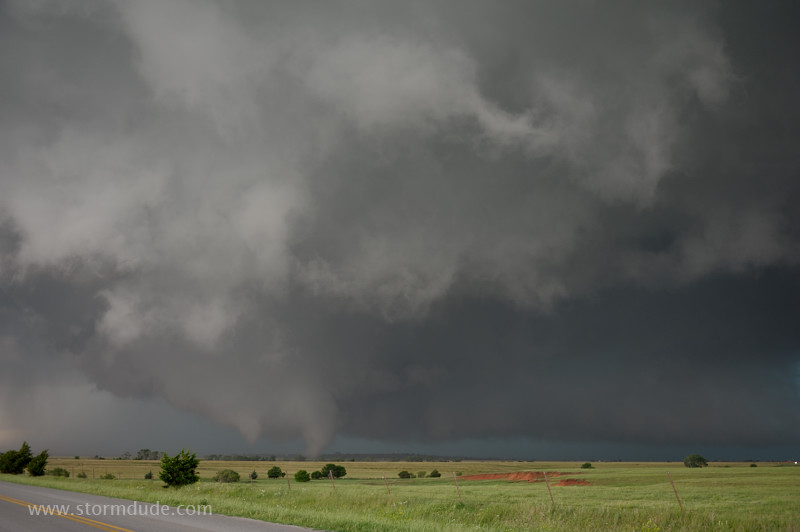 Both the cone tornado and the larger secondary vortex grow in size.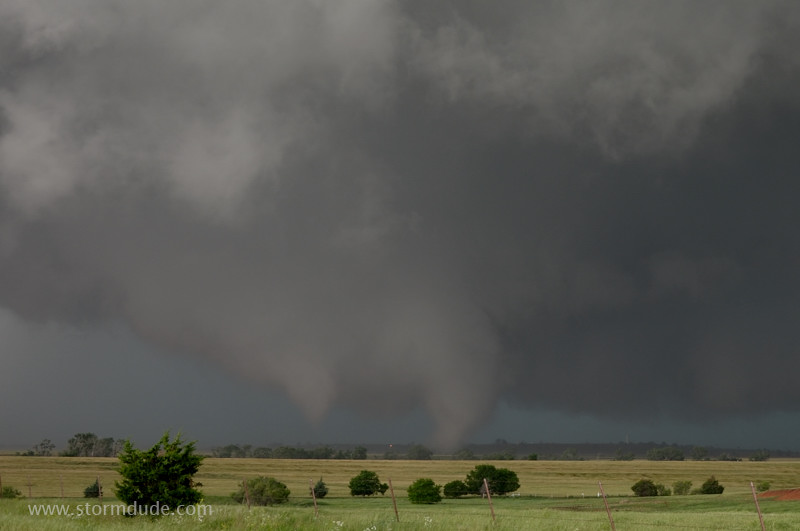 The cone tornado continues moving northeast even though the parent circulation is moving southeast, towards a nearby group of storm chasers.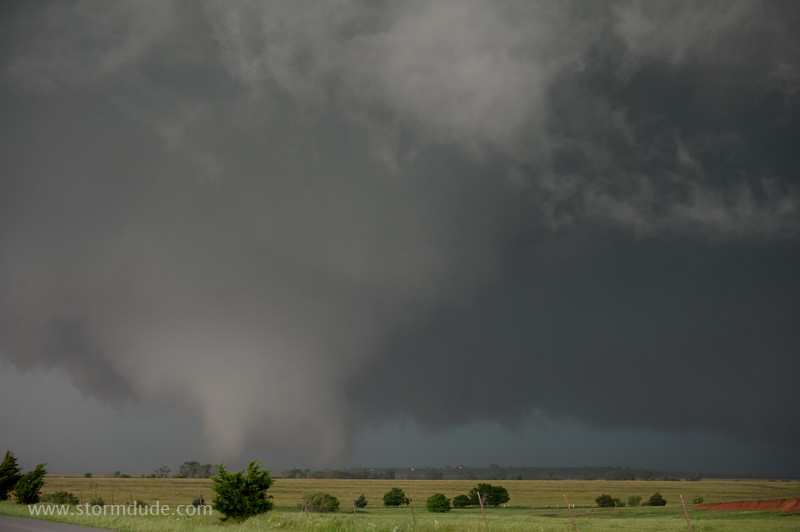 The tornado is now clearly moving southeast. (6:05)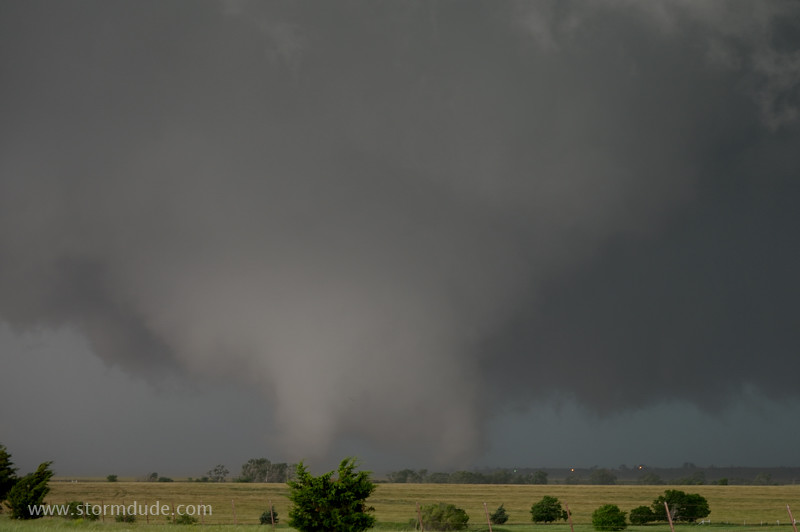 Zoomed-in view. Bill Hark has an excellent chase account and video from two miles northeast of my position (6:03 to 6:06) and then one mile east of my position (6:08 to 6:10): Bill Hark's Chase Account)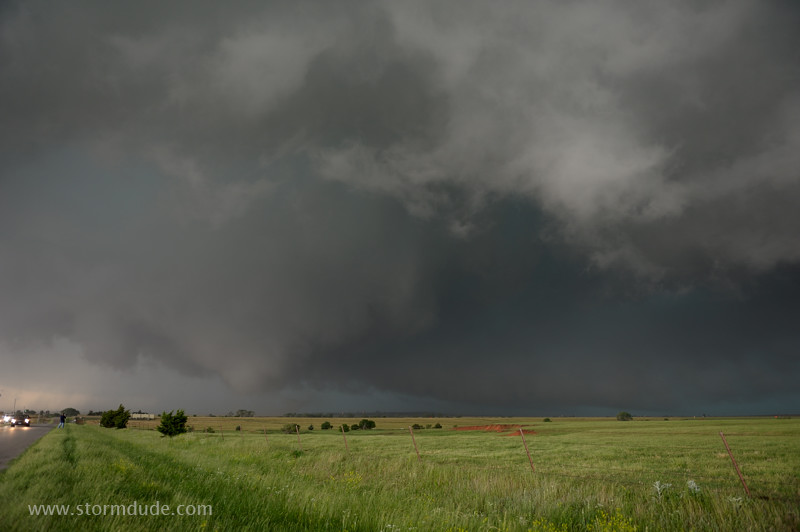 The visible funnels have momentarily lifted. The wall cloud is roughly two miles to my west-northwest. (6:05:33)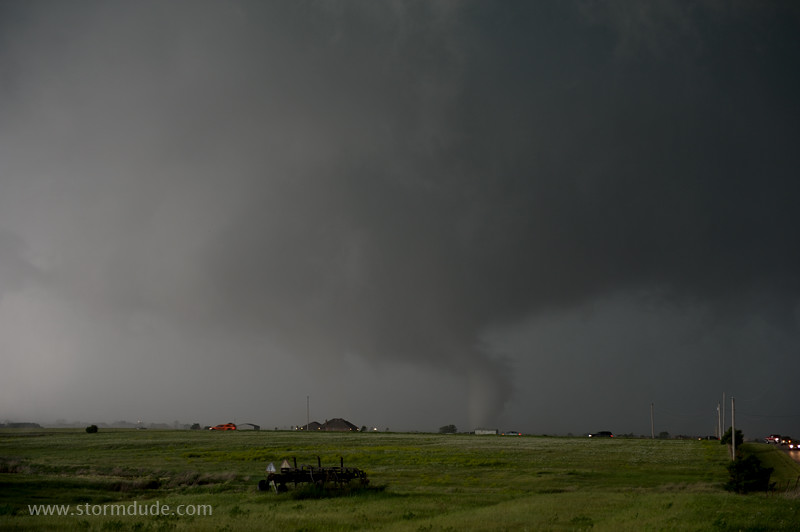 I move a little east on Reno Road. The tornado has moved south of the west-to-east road I'm following, and is continuing southeast. (6:08:22, Reno Road, one-third mile east of Chiles Road).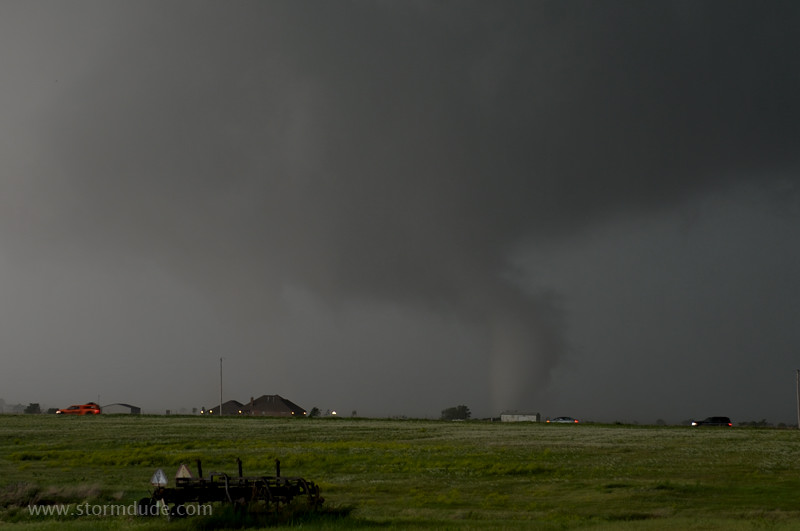 A closer look shows storm chaser vehicles racing south to escape the tornado. However, with the larger tornado cyclone nearly upon them, and continuing to move southeast, some are caught in the tornadic circulation (see videos posted by Brandon Sullivan and Aaron Tuttle).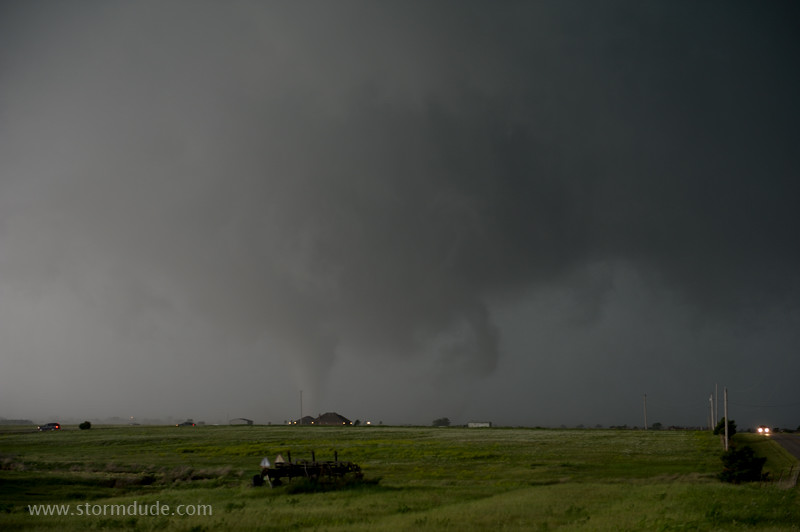 It's still showing multi-vortex characteristics, on the verge of rapid expansion into a large, rain-wrapped tornado. This is only five minutes since the tornado touched down, and only ten minutes since the wall cloud was well to my northwest. (6:08:34)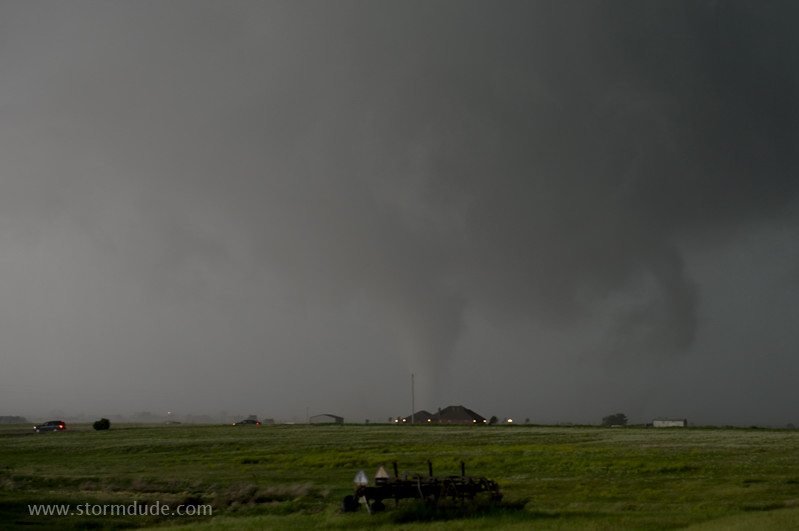 This zoomed-in view shows a rainy RFD (rear-flank downdraft) rapidly approaching. During the next three minutes, the tornado expands to over a mile wide.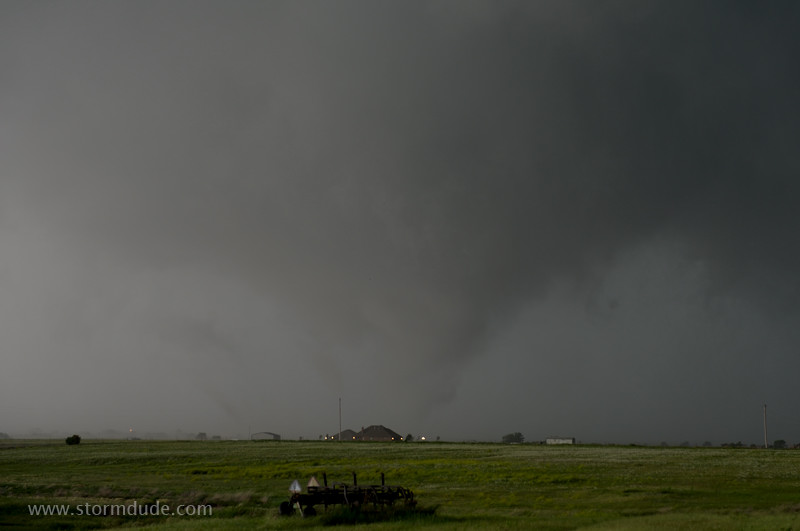 The apparent consolidation of the tornado, as well as the approaching RFD, has convinced me to drive east, directly away from it, until well clear of the tornado. I'm only at this location for ninety seconds. (6:08:40)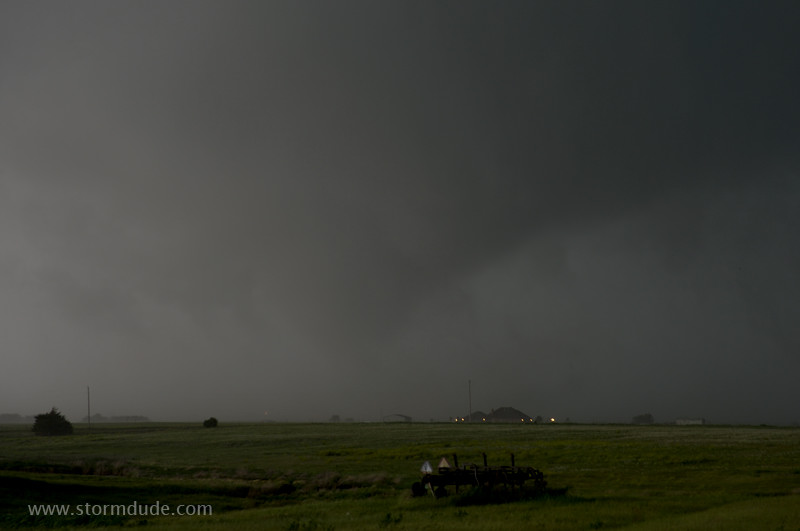 Last photo I take before leaving, already showing a rapid expansion in tornadic circulation (6:09:10). As I'm driving east, to my right I see the leading edge of wrapping rain curtains. This signals likely formation of a very large, rain-wrapped tornado so I don't stop until completely clear of the storm. (David Hoadley prepared a map showing some storm chaser routes relative to the tornado path:David Hoadley's Chaser Map. Though my route crosses the tornado's path, I stay ahead of it.)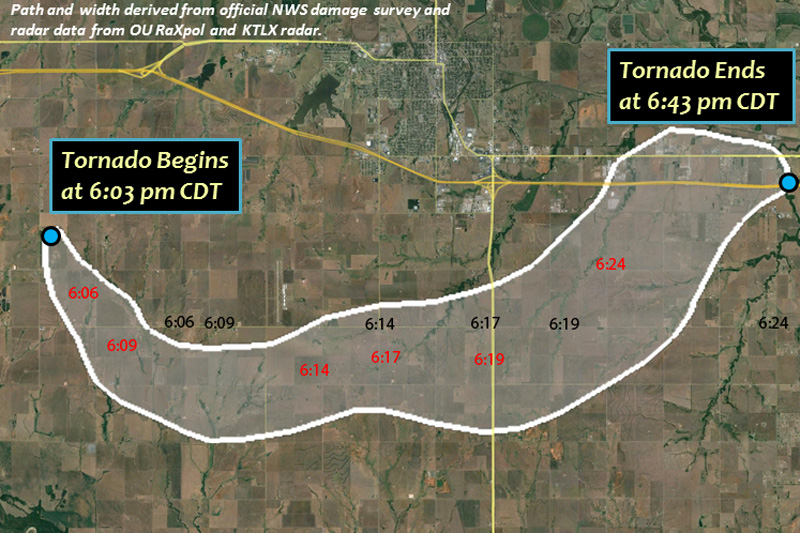 Tornado's estimated path (from NWS in Norman). I've marked the center of the tornado cyclone in red, with my locations in black at selected times. I stay a little ahead of the circulation, and as I approach Highway 81, the outer perimeter of the 2-mile wide tornado is three-quarters of a mile behind me. My closest encounter is at 6:19, when the center is 1.4 miles to my southwest, but the width of 2.5 miles places the front edge only a couple of hundred yards behind me.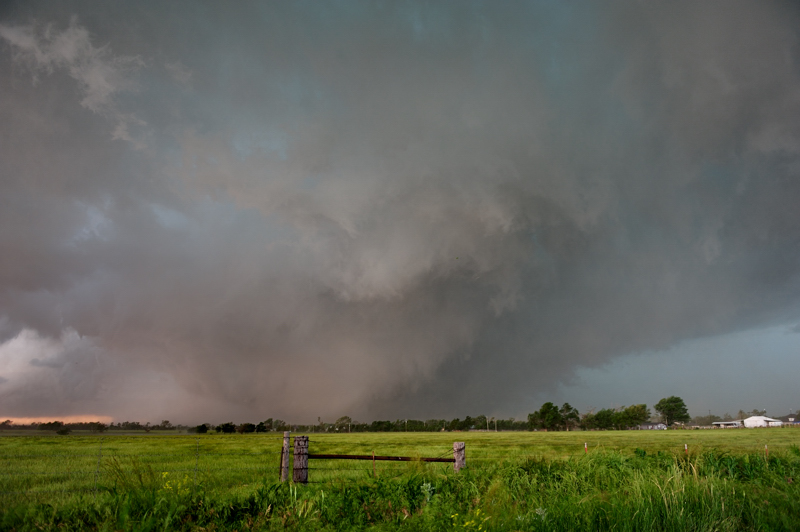 Five miles east of Highway 81, and well clear of the tornado, an astonishing scene: a massive EF-5 tornado two miles to my northwest (the storm turned east then northeast as it rotated counter-clockwise around the larger mesocyclone). (6:25, Reno Road and Banner Road)
Zoomed-in view. An unusually intense RFD briefly tops 70 mph near my location so I retreat another mile south. (Dan Robinson has a fascinating account of his encounter, including tornadic winds about a minute after this photo was taken: Dan Robinson's Chase Account)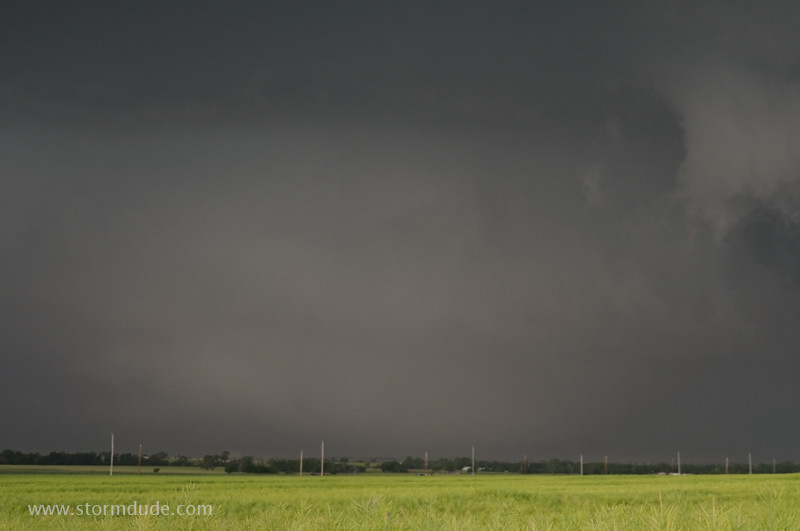 An extremely large, violent tornado: roughly 2.5 miles wide with nearly 300 mph top wind speed. Though it was a tragic event for many people, it was fortunate that the tornado dissipated before reaching Oklahoma City suburbs. (6:29, Banner and 15th)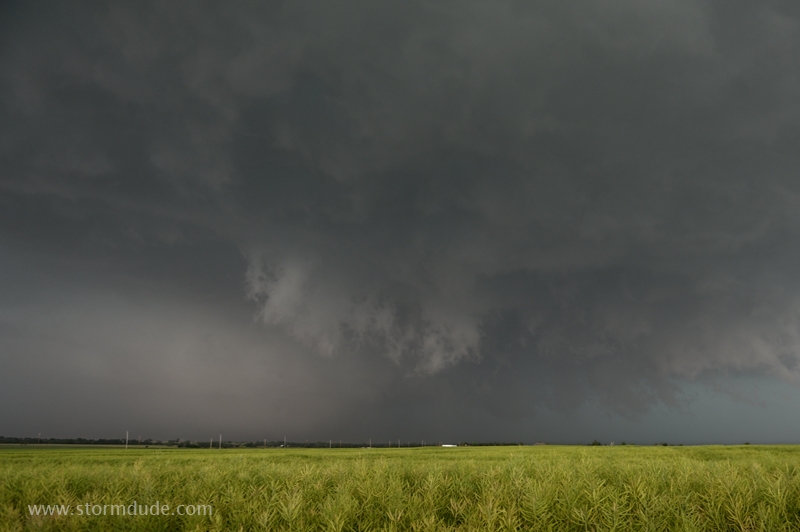 Wide angle view. This storm was a vivid reminder of the importance of maintaining a margin of safety, as well as being absolutely certain that one always has an exit route, even when a tornado rapidly expands, changes direction or produces strong satellite tornadoes.

Skip Talbot put together an exceptional video analysis of the tornado movement relative to storm chasers:Skip Talbot Video Analysis My vehicle (one of the black dots) stays just ahead of the black circle representing the tornado.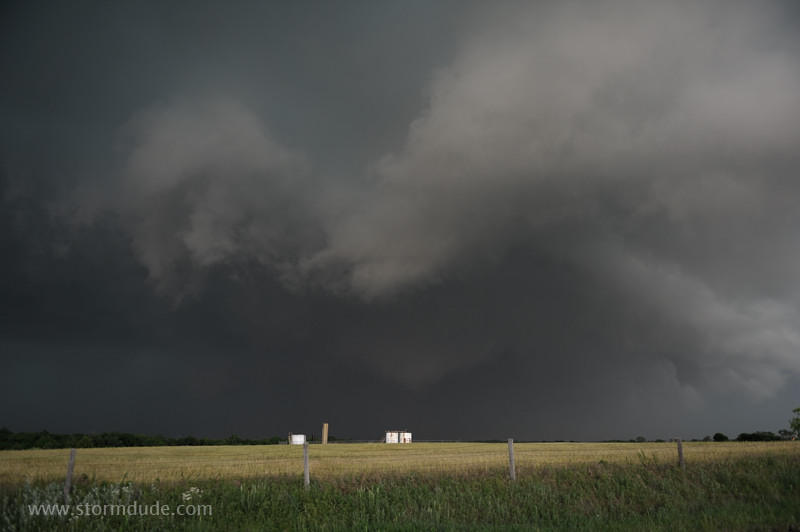 The rest of the evening consists of staying clear of large hail, avoiding a tornado that was forming back to the west, and using my GPS and mapping software to help me avoid traffic jams by finding paved back roads that would take me permanently south of the storm. (Unfortunately, the NWS advice to stay off the roads was ignored by many people who, with the recent Moore EF-5 tornado fresh on their minds, left their homes and risked their lives by driving south. For me personally, the lesson has been to expand my rule of "not chasing in metropolitan areas" to "not chasing anywhere near a town large enough for misinformed people to create dangerous traffic jams".)