Prague (continued)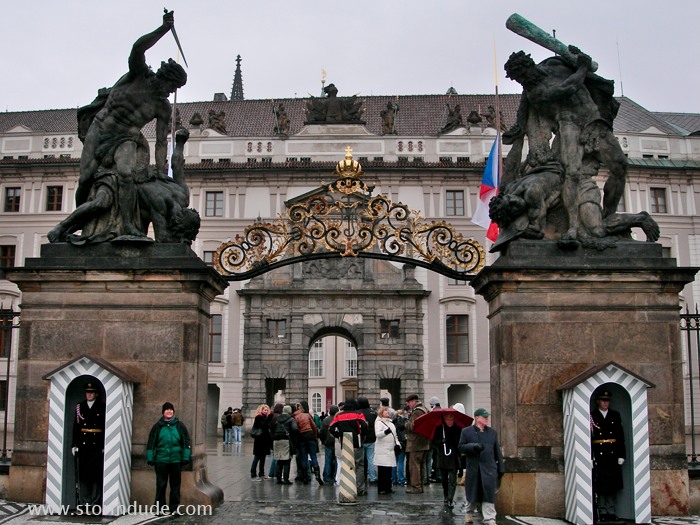 Pam helps guard Prague Castle.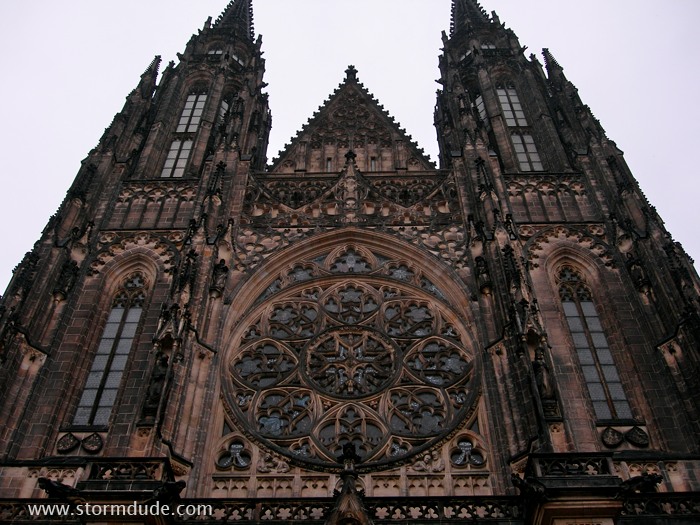 Gothic St. Vitus Cathedral, part of the castle complex.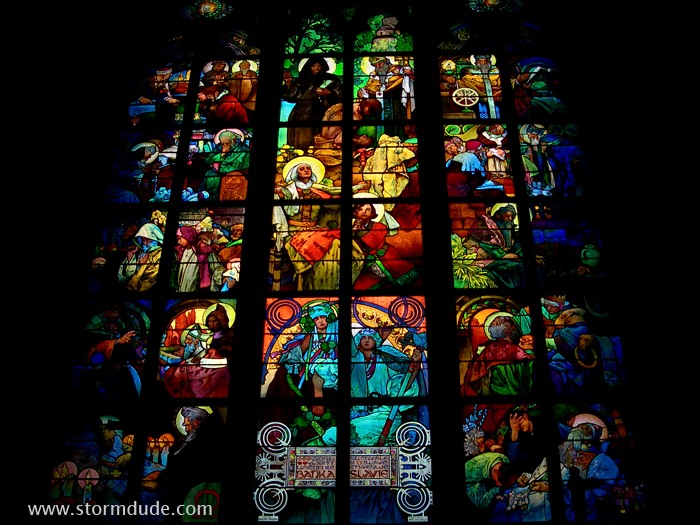 The most impressive stained glass artwork we saw in Europe. But freezing temperatures inside the cathedral and mid-twenty-degree temperatures outside (and I don't mean celsius) cut short our visit to Castle Quarter.
Budapest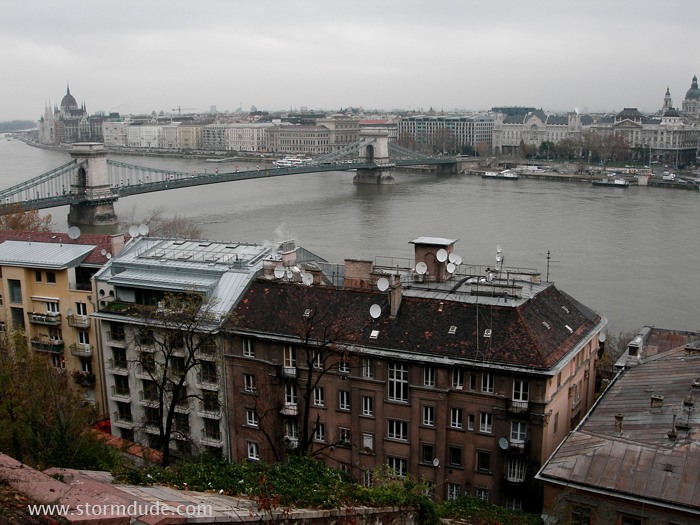 We escape the unusually cold weather by heading south to balmy Budapest, Hungary. Instead of mid-twenties, the temperature is now well into the thirties!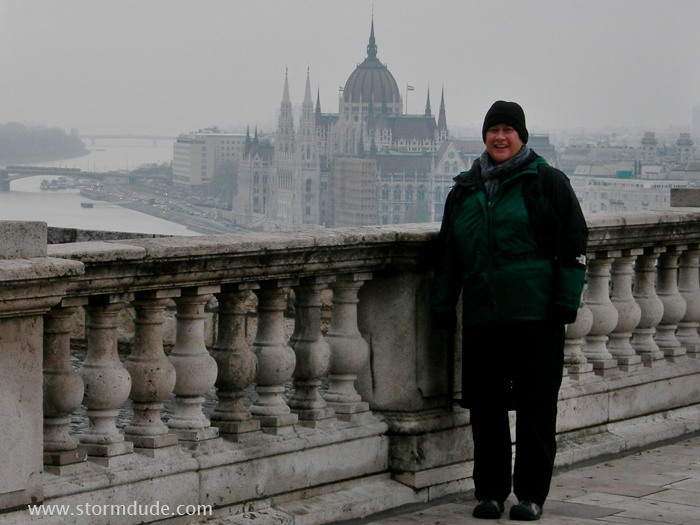 Exotic architecture in another modern, friendly major city.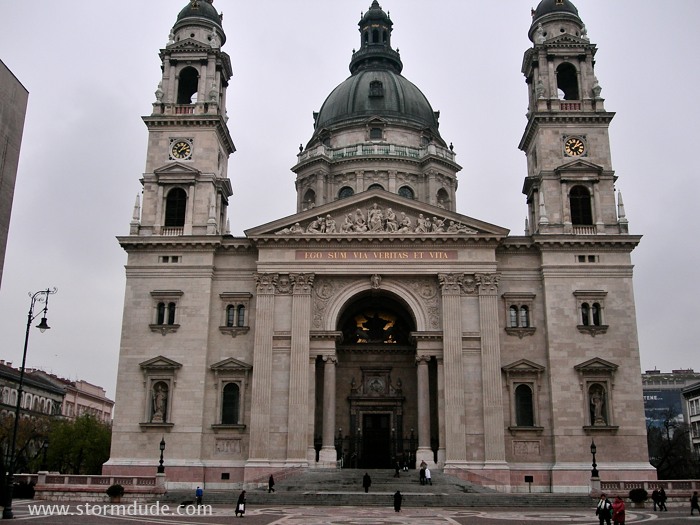 Two days isn't enough to explore Budapest, but sunny Italy beckons.
Austria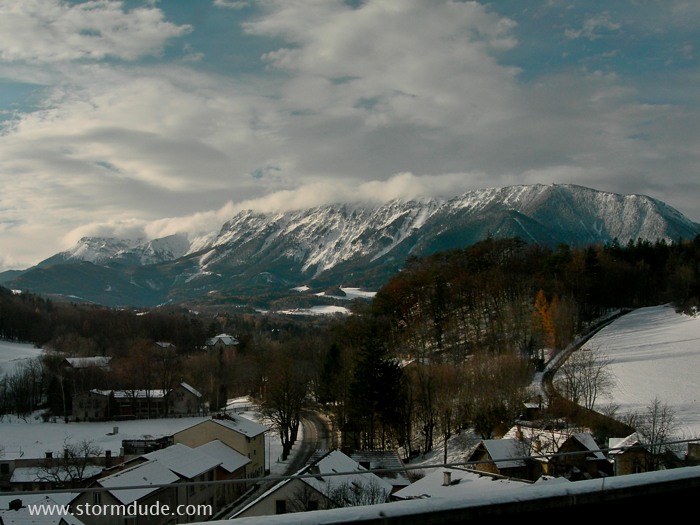 ...but first we pass through the Alps of eastern Austria and a lot more snow.
Venice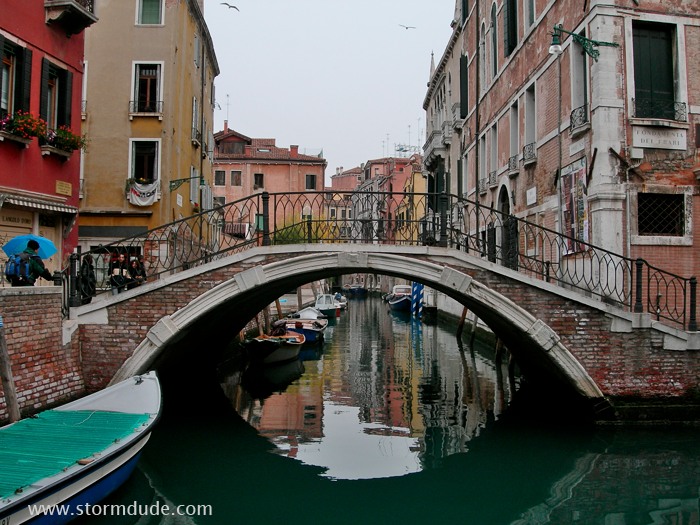 Venice! With colorful canals and a maze of vehicle-free streets, it quickly becomes our favorite city in Europe.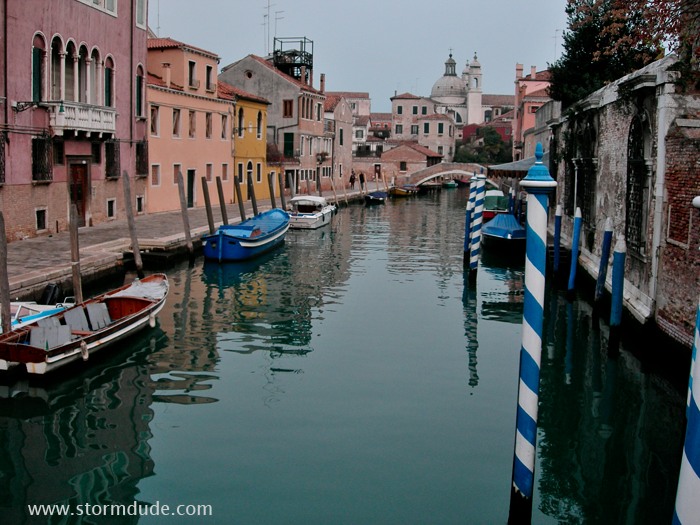 Mixed reviews from other travelers must be due to steamy summer weather and massive crowds because we could easily have stayed a week.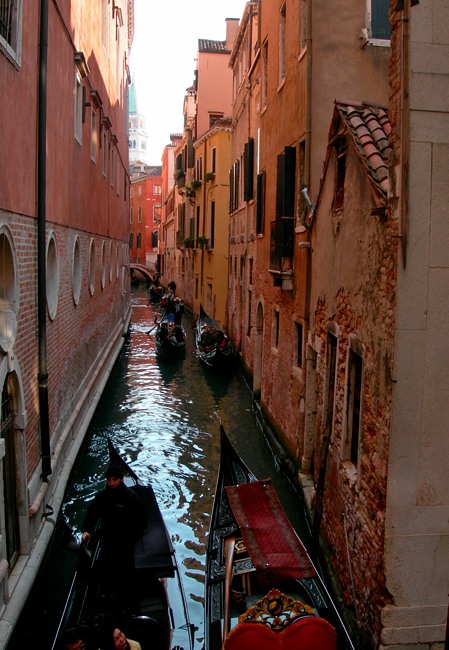 Easily the most photogenic city I've visited.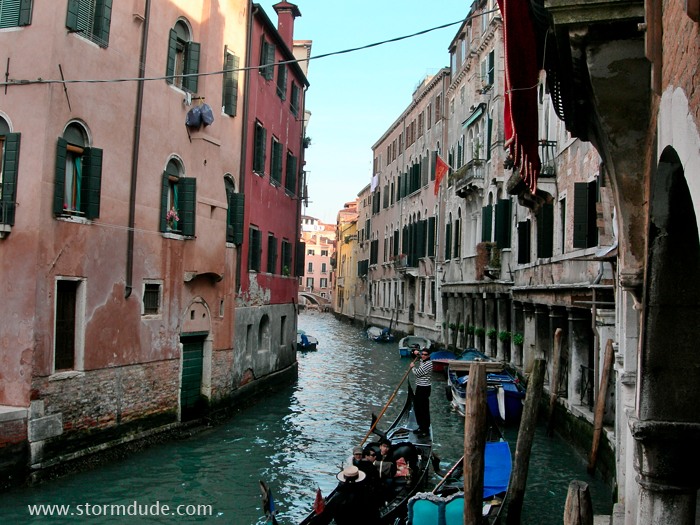 Ubiquitous gondola adds to ambience.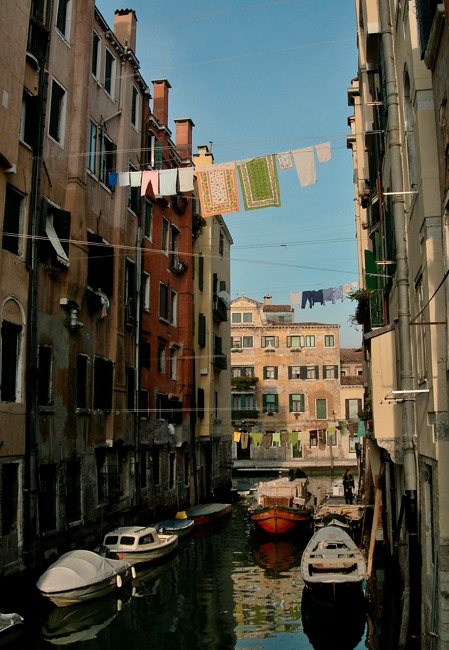 With no vehicles allowed in Venice, boats handle everything. This system allowed Venice to become one of the largest cities in Europe during medieval times.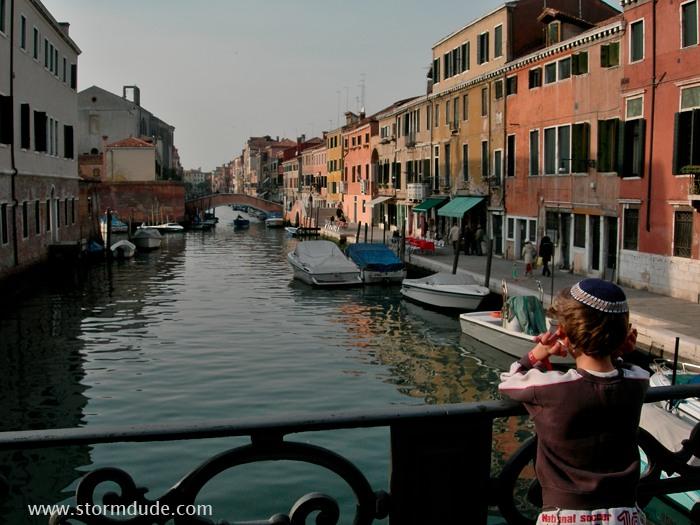 Historical Jewish Ghetto of Venice, another neighborhood of narrow winding walkways and colorful buildings.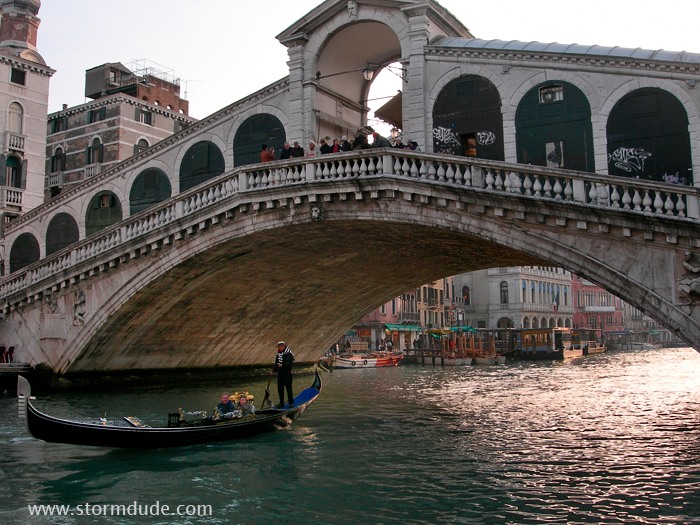 Famous Rialto bridge, built of stone in the late 1500s, crosses the Grand Canal.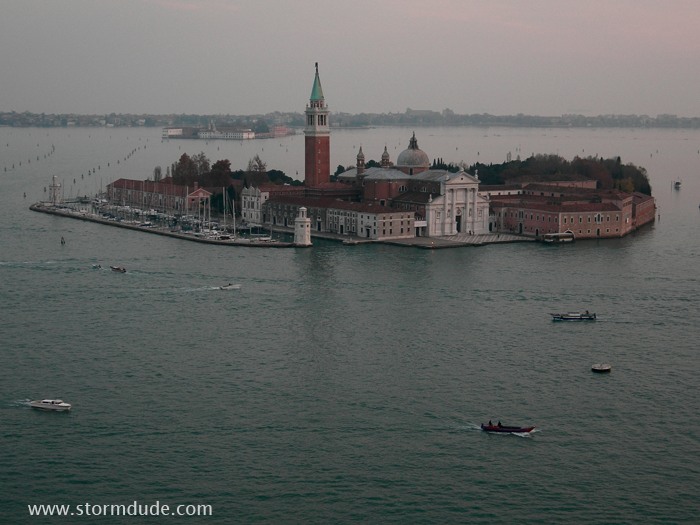 View at dusk of San Giorgio, where a Benedictine Monastery was established in 982, after the head of the Republic of Venice donated the whole island to a monk.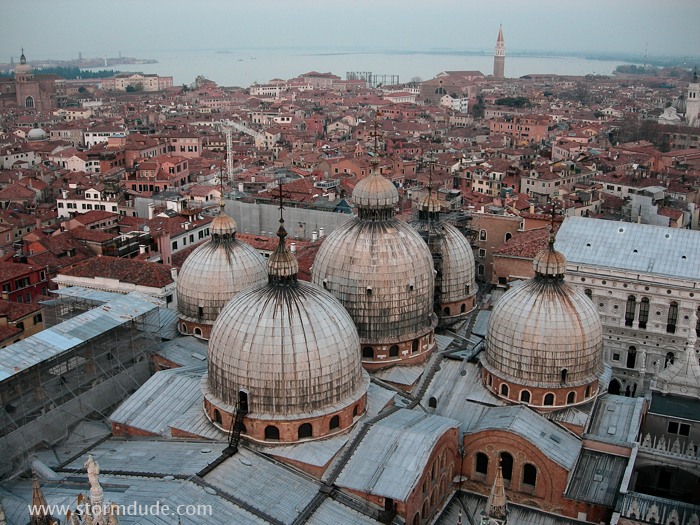 The great view from the belltower of Piazza San Marco (St. Mark's Square) includes Basilica di San Marco.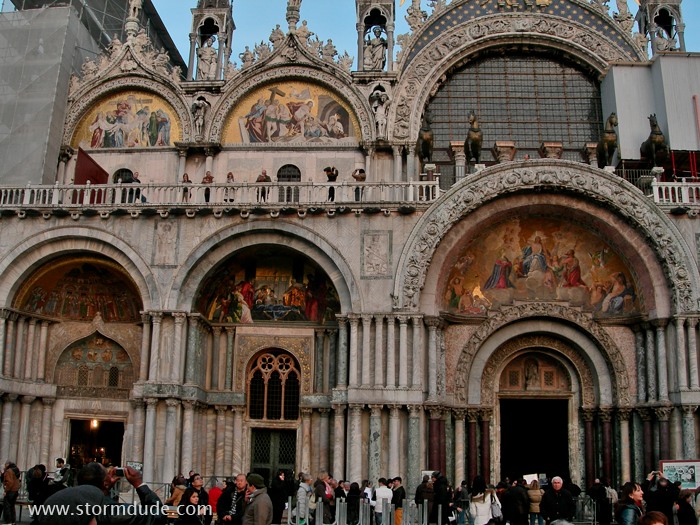 Front of the lavishly decorated St. Mark's Basilica, nicknamed "church of gold."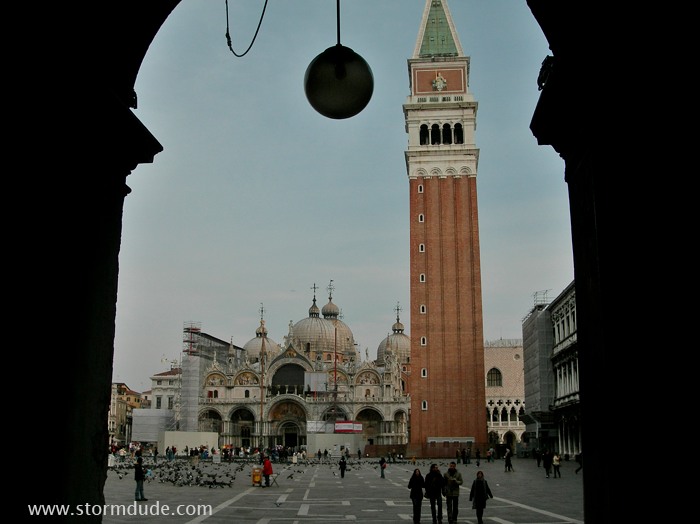 Looking across Piazza San Marco, the impressive center of Venice.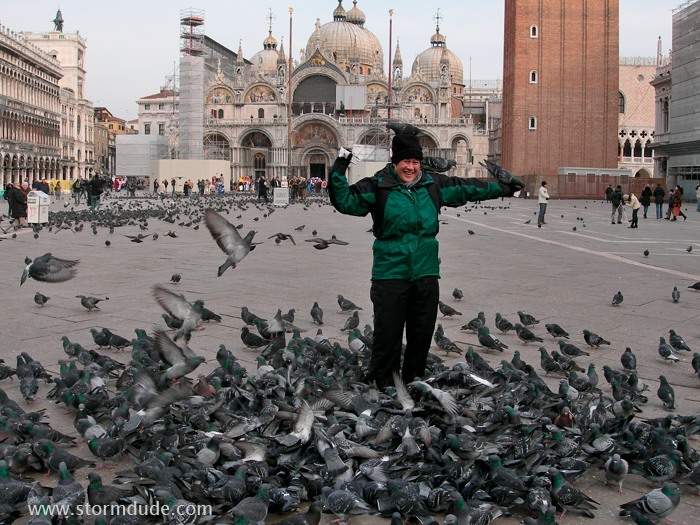 Feeding pigeons hasn't been banned in Venice as in other cities, much to the joy of the flocks that envelope anyone who buys seed from one of the vendors.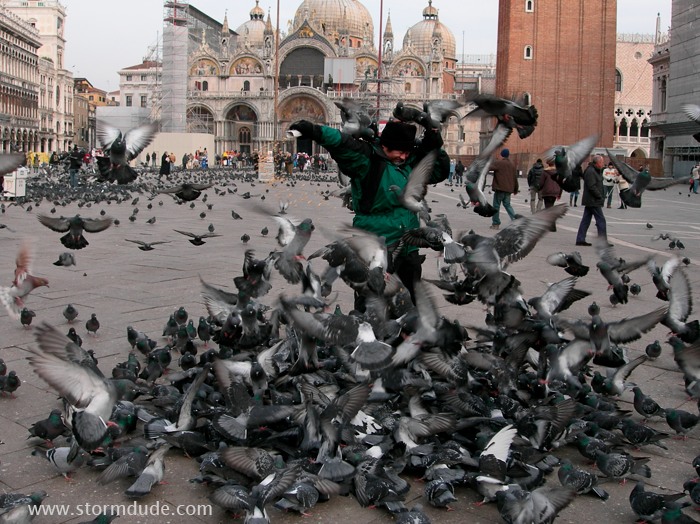 Feeding the birds.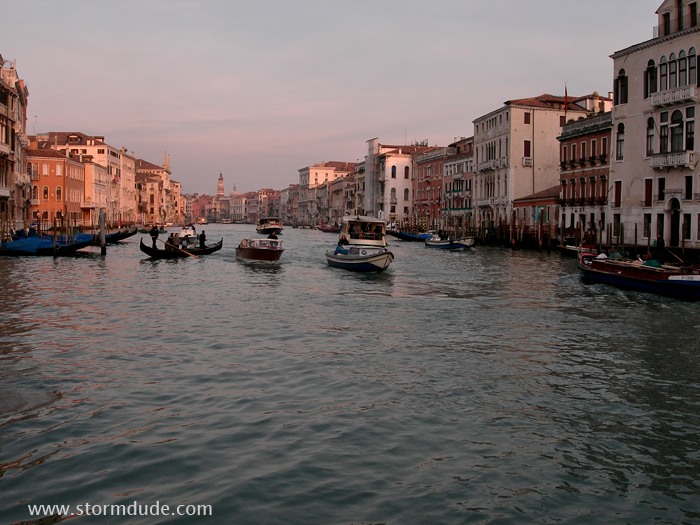 We enjoy a scenic ride on the front of a waterbus along the S-shaped Grand Canal that bisects Venice.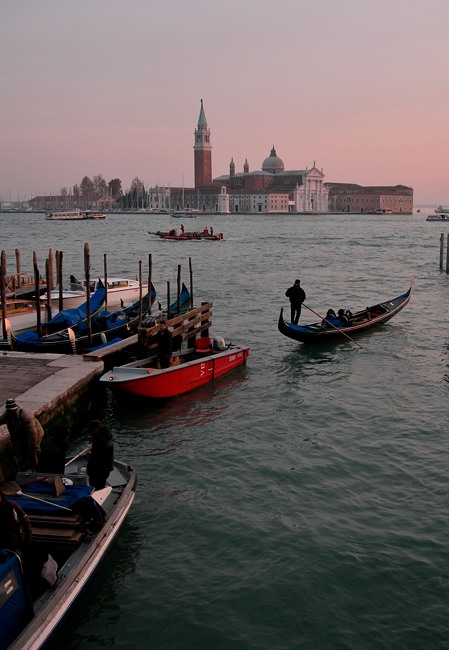 Looking across the bay at San Giorgio on our last day in Venice. We loved everything about this city.
Florence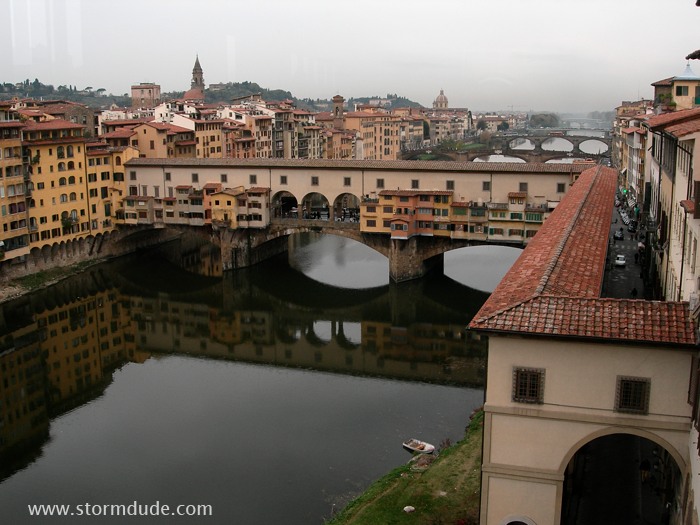 We couldn't find Florence on the map, so we instead visited the great art center of Firenze, the capital of Tuscany and birthplace of the Italian Renaissance (just kidding...Florence is english for Firenze and tourists are sometimes confused because they can't find Florence on their map of Italy).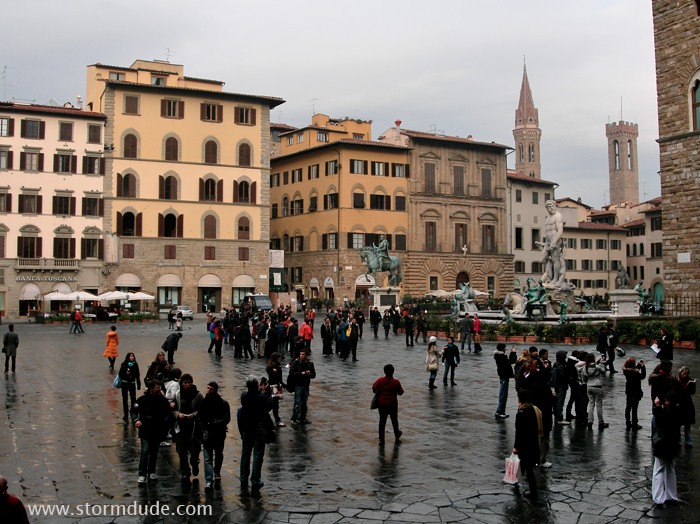 Piazza della Signoria in the center of Florence. This is a good place to start any visit to the city.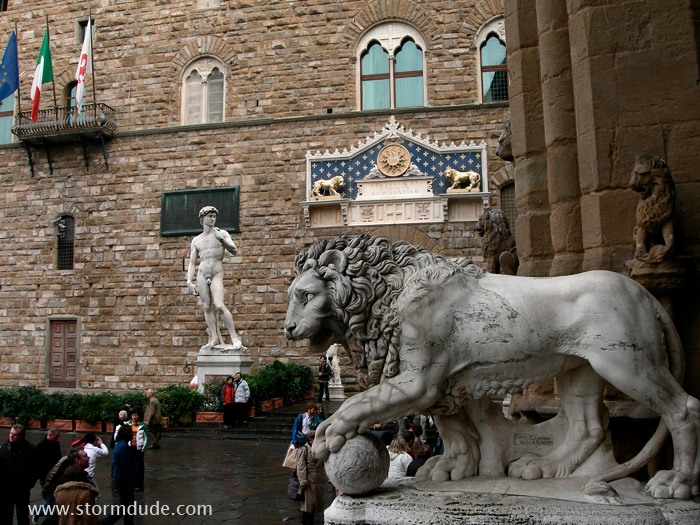 Great art seems to be everywhere you turn, including this replica of Michaelango's most famous statue (the original is in the nearby Accadamia Gallery). It didn't take long to see how a few talented Italian's ushered in an artistic revolution, part of northern Italy's role in leading western civilization out of the Middle Ages and into the modern era.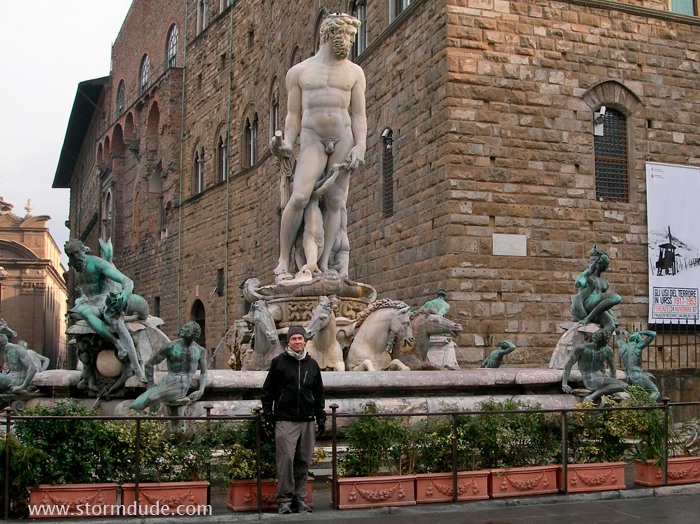 Pam took this photo of me standing in front of Fountain of Neptune, also in Piazza della Signoria.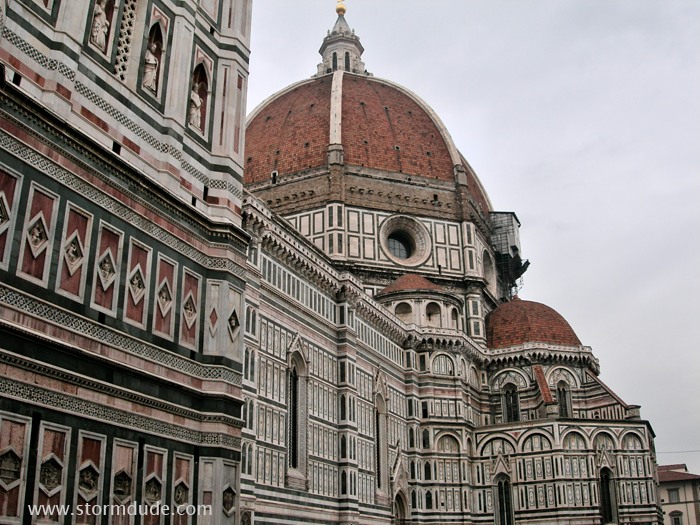 Basilica di Santa Maria (a.k.a. Duomo), one of the largest cathedrals in Europe...it holds 30,000 people. Stunning design made this our favorite tourist attraction in Florence, including a climb to the top of the dome.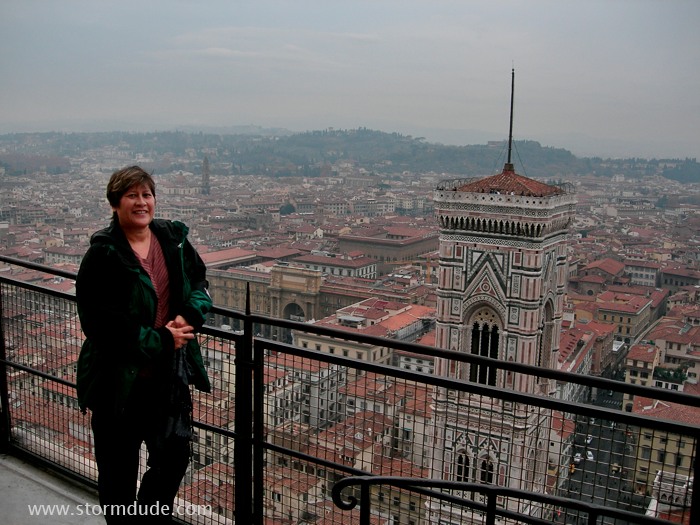 At the top of the dome after a 463-step climb up a narrow spiral staircase. Well worth it for both the close-up views of a 38,000 sq ft (nearly one-acre) painting of the Last Judgment under the dome, as well as the panoramic views of Florence.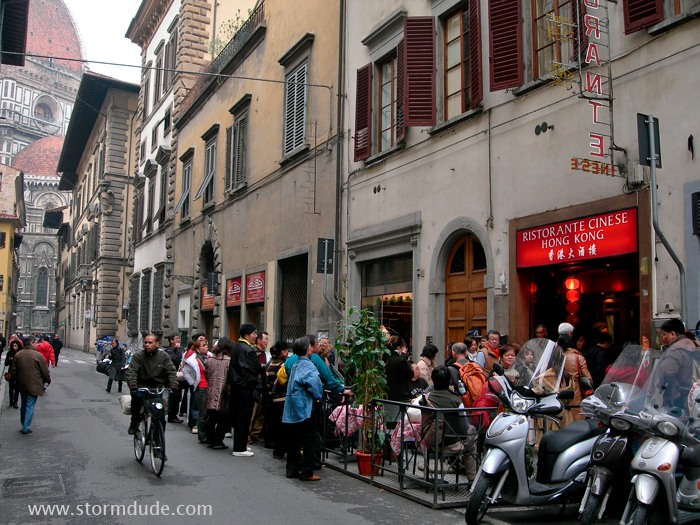 Now a quick side-trip to Hong Kong. Oh wait...isn't that the Basilica di Santa Maria in the background?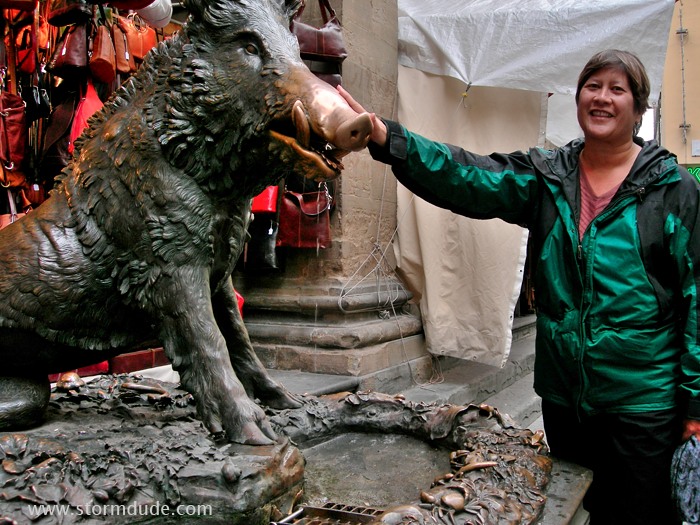 We happened by the bronze boar of Florence. Pam petted his snout for good luck, which also means that we will return to Florence some day (according to local legend).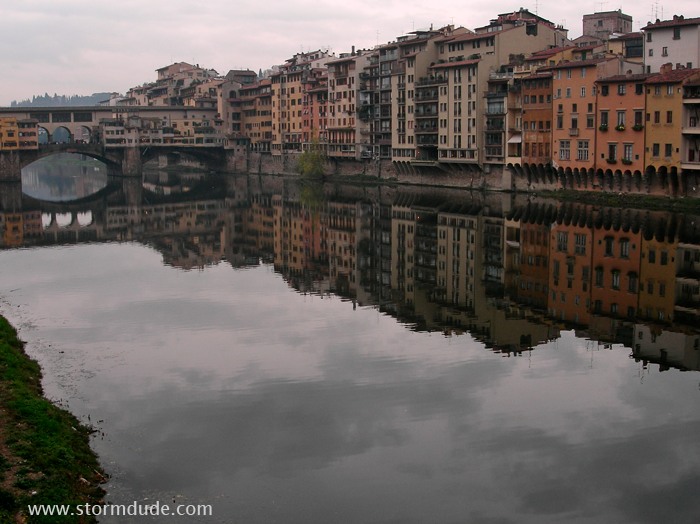 Near the end of our three-day stay in Florence. A beautiful city with great art and food, but after non-stop dodging of speeding scooters and "canine pollution" we are ready for the quiet, uncrowded streets of Rome.